1 in 5 Students Have Hearing Loss; Motes Audio Launches Kickstarter Campaign with the First Headphone Specifically Designed to Protect Students Hearing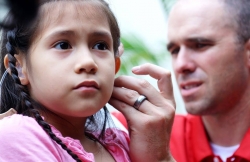 Salt Lake City, UT, May 02, 2017 --(
PR.com
)-- Motes Audio today launched a Kickstarter campaign featuring the first volume governing headphones specifically designed for schools and school age students. According to a study by Harvard Medical School Associate Professor Dr. Curhan, one in five students has permanent hearing loss most likely due to high-volume sounds. [i] With the increasing use of headphones in the classroom and the spike in recreational use of them by children and teenagers, parents and educators now have a solution to help protect against hearing loss.
Motes Audio engineered its first headphones, the KadenceTM, to address the problem of high-volume sounds in headphones by automatically keeping sounds at or below 85 dB. These parameters align with CDC and OSHA recommendations for preventing permanent hearing loss from repeated exposure to high volume sounds. [ii] [iii] The KadenceTM headphones also provide up to 17 dB of sound isolation.
The KadenceTM headphone is ideal for educators and parents. It is easy to clean, durable, compatible (3.5mm), affordable (MSRP $40), and comfortable to wear.
Company Founder Denarius Motes, a musician and music producer, knows firsthand the importance of protecting your hearing. "At a young age, I was exposed to loud music. I was not properly taught how to protect my ears. If I had a product like what we're developing here at Motes Audio I could have avoided permanent hearing loss."
Dr. Spencer Lifferth, AuD oversees the integrity of the technology within the Motes Audio headphones and products. While the Kadence was designed with school aged students in mind, it is equally important for adults to protect their hearing. "Adults are just as vulnerable to hearing loss from loud sounds as students and children. At Motes Audio, we dedicate ourselves to creating products that can protect hearing at any age," explains Dr. Lifferth.
As Motes Audio is still in its initial stages of development, the Kickstarter campaign will help bring the full suite of its products to market. Motes Audio products are available for preorder on Kickstarter.
www.kickstarter.com/projects/motesaudio/motes-audio-headphones
Contact
Trish Alderman, CPA
Managing Partner
435-201-4347
[i] Dr. Gary C. Curhan, MD, ScD, Associate Professor at Harvard Medical School, Change in Prevelance of Hearing Loss in US Adolescence; JAMA. 2010;304(7):772-778. doi:10.1001/jama.2010.1124
[ii] CDC/NIOSH. Revised Criteria for a Recommended Standard: Occupational Noise Exposure (NIOSH Publication 98-126). Cincinnati: US Department of Health and Human Services; 1998.
[iii] OSHA Regulation 1910.95
Contact
Motes Audio, LLC
Trish Alderman
435-201-4347
www.motesaudio.com

Contact
Multimedia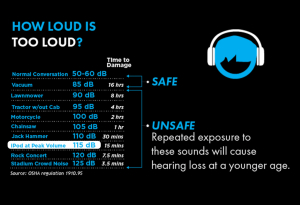 OSHA recommends listening to sounds no louder than 85 dB in order to prevent permanent hearing loss.