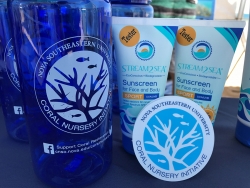 Fort Lauderdale, FL, May 13, 2017 --(
PR.com
)-- Nova Southeastern University's Coral Reef Restoration, Assessment, and Monitoring (CRRAM) Lab welcomed Stream2Sea to their location on Conservation Village during the Tortuga Music Festival, in Ft Lauderdale, FL. The annual festival hosts "Rock the Ocean," with a weekend long music festival with a portion of the proceeds going towards restoration and conservation efforts of the oceans' causes. Concert goers walk a one-mile stretch of beach between two stages with Conservation Village situated between them. Visitors to the Row learn about protection efforts, endangered species, prominent issues of concern and how they, as individuals, can make a difference.
In addition to promoting reef restoration, conservation and their Coral Nursery initiative (NSUCNI),this year, Nova Southeastern University's CRRAM Lab's focus was sunscreen pollution. Sunscreen pollution is a topic of debate in Hawaii and other areas of the world. Decision makers are being presented with requests and petitions to ban personal care products containing ingredients such as oxybenzone to protect their environments. As more studies are released showing the effects of benzophenones, parabens and sulfates in our waters, it is becoming more widely understood that ingredients in personal care products should carry the same concern as those in our foods.
The CRRAM Lab chose to invite Stream2Sea to share their booth space on Conservation Village to help educate concert goers and raise awareness of this growing concern. Stream2Sea was honored to participate alongside the Coral Reef Research group. By presenting the perspective of the marine biologists who see the changes and impacts affecting reefs daily in conjunction with the research and testing completed by Stream2Sea, together they are able to bring greater understanding to consumers.
"It was really impactful to teach festival attendees about this one thing that they can change in their everyday lives that will not only help them, but the environment surrounding them. Many of the attendees had no clue that the products they use frequently, such as sunscreens, contain chemicals that have the potential to really harm them. By partnering with Stream2Sea we were able to present them with the option to make a change that day, most of whom did," said Liz Goergen, researcher in the CRRAM Lab.
Coral reefs are under threat today from a host of natural and human-induced factors. As a result, they are undergoing large-scale ecological and physical changes. While sunscreen pollution is not the only factor impacting the health of coral reefs, it is one which consumers have the power to change today by simply understanding the ingredients in the products they choose. One person may not be able to quickly affect the temperature of the waters, or retrieve the plastics and debris from the oceans, one person can choose to purchase products which do not pollute our waters. When people make that choice through knowledge and education, it will make a difference for the reefs, oceans and planet.
Goergen stated, "Events like these really drive home the importance of educating the public about being mindful of the environment - Everything we do leads to a waterway, if you don't know you are causing harm to yourself or the environment, you won't think to change your behaviors."
The Tortuga Music Festival and Rock the Ocean were a resounding success with over 100,000 concert goers in a sold-out attendance to one of the largest country-music beach parties all in support of conservation, awareness and restoration. It provides a platform for groups like NSU's CRRAM Lab and Stream2Sea to stand side-by-side in solidarity to build a better tomorrow for our future. When formulators and biologists work together it creates a stronger and more unified platform to protect Earth's ecosystem. They can then develop performance-based, award-winning products that are healthy to use and will not harm the planet through pollution.
Nova Southeastern University's Coral Reef Restoration, Assessment, and Monitoring Lab's research focuses on coral reef ecology by evaluating threats to coral reefs and their communities, monitoring reef health and investigating methods to improve restoration success. The lab has a strong resource management focus and works closely with local, state, and federal agency resource managers. The NSU Coral Nursery Initiative part of the CRRAM Lab, established in 2007, is a hallmark research project of the Nova Southeastern University Halmos College of Natural Sciences and Oceanography. Located about a mile off the coast of Fort Lauderdale, the NSU coral nursery is fostering re-growth and increased abundance of the threatened staghorn coral species, Acropora cervicornis, which is likely to be soon listed as endangered under the U.S. Endangered Species Act. The nursery project offers hope for species recovery and for coral reef restoration.
Stream2Sea has set a new standard for EcoConscious sunscreen and skincare. Along with standard human safety and SPF tests, Stream2Sea products are proven to be biodegradable in both salt and fresh water. One of the only companies who manufactures sunscreen products to have done so, they successfully passed a rigorous series of aquatic toxicity tests and been proven safe to c.elegans and coral larvae. Formulated with powerful antioxidant blends to protect skin from sun damage, includes sunscreens, conditioning shampoo and body wash, leave-in conditioner, nourishing body lotion and lip balms. Stream2Sea products are currently available online at www.Stream2Sea.com or ask for them at your favorite health food store, dive shop or outdoor retailer. Connect with Stream2Sea on Facebook, Instagram, Twitter and YouTube as @Stream2Sea or call (866) 960-9513.