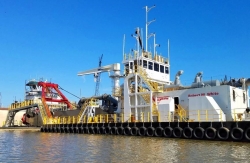 Seattle, WA, May 23, 2017 --(
PR.com
)-- Manson Construction Co. is proud to announce the completion of its 30-inch ABS cutter suction dredge ROBERT M WHITE. Constructed at Halimar Shipyard LLC in Morgan City, Louisiana, with design and dredge components from IHC America Inc., the dredge successfully launched on April 24, 2017.
Named in honor of Mr. Robert M. "Mitch" White, a long-time Manson employee and one of the leaders in the advancement of safety in the maritime industry, the dredge is a testament to the excellent teamwork between IHC, Halimar, and Manson, continuing Manson's fleet modernization.
"We have high expectations for our state-of-the-art ROBERT M WHITE cutter suction dredge. We appreciate the quality and timeliness of the dredge's delivery by our team, such that she will begin digging this summer," said Manson President Eric Haug.
Frederick Paup, Chairman of the Board of Manson, stated "We are proud that the ROBERT M WHITE is a U.S. built, U.S. flagged, and U.S. crewed vessel that will focus on the coastal restoration and maintenance dredging markets of the United States. We will continue to invest in the U.S. dredging market to help our stakeholders accomplish their missions."
Company and Contact Information
Founded in 1905, Manson Construction Co. is an employee-owned company, with more than 800 employees nationwide. Manson is a preeminent leader in heavy civil marine construction, dredging, and heavy lift services for federal, public, private, offshore and energy clients.
Manson Construction Co.
P.O. Box 24067
Seattle, Washington 98124
www.mansonconstruction.com | pr@mansonconstruction.com