Narrative Summit 3: "Stories That Change" -- Digital Narrative Alliance Conference Announced for June 20 in San Francisco
Leading digital storytelling experts to present narrative strategies for business, media and social change.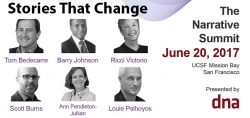 San Francisco, CA, May 24, 2017 --(
PR.com
)-- The Digital Narrative Alliance(tm) today announced its 2017 Narrative Summit conference "Stories That Change," to be held on June 20 at the UCSF Mission Bay Conference Center in San Francisco. The event agenda brings together storytelling experts from filmmaking, academia, non-profit organizations and global corporate brands.
"We are thrilled to host Aaron Loeb, an accomplished playwright and game designer, Louie Psihoyos, an Academy-award winning documentary filmmaker, Ann Pendleton-Jullian, Architect, Writer, Educator, and World Builder, and other inspiring industry experts – all on the same stage," said Dave Toole, Founder and Chairman of DNA. "These practitioners are leaders in their respective fields of storytelling and their combined expertise will provide a unique learning opportunity." Joining Loeb, Psihoyos and Pendleton-Jullian are "Silicon Valley's Favorite Adman" Tom Bedecarre, Producer of "An Inconvenient Truth" Scott Burns, Adjunct Professor and veteran business executive Richard Okumoto, Producer of "Stories of the Uninvited" Barry Johnson, renowned dream researcher Dr. Kate Niederhoffer. Event attendees will partake in an interactive improv workshop led by Ricci Victorio, and expert discussions on the experiential aspect of storytelling.
The Summit is the 3rd such event produced by the Digital Narrative Alliance and prior events have been referred to as the most selective collection of digital storytelling experts in the Bay Area. Attendees from major leading tech, media and educational organizations are expected to join the discussion on narrative strategy, digital storytelling and methods for implementing change through evolving channels for distracted audiences. As individuals and as organization, we are the story we tell and those who listen recognize the authenticity of our story and how it fits our actions. Past speakers at DNA events include John Hagel, co-chairman for the Deloitte Center for the Edge Innovation, Bill Pruitt, Producer of "The Amazing Race," "The Apprentice" and "Deadliest Catch" and Jonah Sachs, author of "Winning the Story Wars," amongst others.
"This conference is particularly important as storytelling is the glue that binds society, communities, movements, brands and markets," said Sourabh Kothari, Director of Narrative Development at DNA. "New narrative models and digital channels challenge storytelling as we know it, and we need experts to help us evolve and cross-pollinate different communication strategies. Our goal is to collect and share such expertise to generate increased interest from business, venture capital and social activists seeking to drive real-world changes through storytelling."
Registration includes admission to all sessions. Breakfast, Lunch, and refreshments during breaks will be provided. Corporate packages are available for a limited number of sponsors.
For registration and additional information go to
http://narrativealliance.com/stories-that-change/
About the Digital Narrative Alliance
The Digital Narrative Alliance is a collaboration of master storytellers and organizational leaders. DNA members share experience and insights through online and physical gatherings, as well as participating in collaborative and for-profit projects. We create events, research programs and executive experiences that explore narrative's power to inspire companies, non-profits, and government, as well as individuals who want to change their world. We help leaders understand and use media purposefully.
Media Contact
Mitch Ratcliffe,
Managing Partner, DNA
mitch@narrativealliance.com
+1 (253) 229-1948
Florian Brody
Managing Partner, DNA
brody@narrrativealliance.com
+1 (408) 728-8681
Contact
Digital Narrative Alliance
Mitch Ratcliffe
253-229-1948
narrativealliance.com

Contact