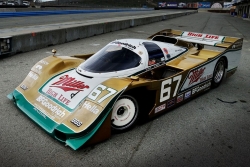 Orlando, FL, June 23, 2017 --(
PR.com
)-- Festivals of Speed has showcased the world's most exotic automobiles, motorcycles, aircraft, watercraft and luxury brands throughout Florida over the last fourteen years and has always featured both vintage and contemporary race cars at all its events. Porsche, Ferrari, Aston Martin, Bentley and many other manufacturers have had examples displayed at Festivals of Speed events countless times on the pristine grounds of the Ritz-Carlton Orlando, Omni Amelia Island Plantation Resort, Renaissance Vinoy Hotel St. Petersburg, The Waldorf Astoria Orlando, the Diplomat Golf & Tennis Club in Hallandale and the Winter Garden Atrium and plaza in Manhattan to name just a few.
This Porsche 962 is without a doubt one of the most iconic of the era with a livery that is instantly recognizable. Driver Derek Bell has said it is his favorite Group C Porsche and it was this exact car that took him to his final 24-hour international race win and it marked the 50th win for the 962 series of cars. The car was the overall winner of the 1989 Daytona 24 hours and was second in the 1988 Daytona race. It also won the 1989 Palm Beach Grand Prix and the 1989 Porsche Cup USA. Festivals of Speed partner and car owner Mike Flynn had this to say, "...This 962 represents the pinnacle of success in an era that produced some of the finest cars and drivers the world has ever seen. We are honored to create a special display for it within these prestigious events..." The car was sponsored by Miller and BF Goodrich and campaigned by Jim Busby Racing. It had 11 top-five qualifying runs and 5 podium finishes during the 1988-89 seasons. It was driven by Derek Bell, Bob Wolleck, John Andretti, Jim Busby, Mauro Baldi, Jochen Mass, Brian Redman and Daron Brassfield and it was retired in 1989.
When asked about the special display for this 962 Joe Sabatini of Festivals of Speed had this to say, "Our events have hosted magnificent cars of all makes and models showcasing both vintage and contemporary examples. This very special Porsche 962 brings with it a history of passion and perseverance and we could not be more pleased to share it with enthusiasts..."
About Festivals of Speed
Festivals of Speed with headquarters in Eustis, Florida has operated for the last 14 years as the ultimate luxury showcase for discerning enthusiasts with a passion for all forms of transportation and luxury brands. The events display the world's most exotic automobiles, motorcycles, watercraft, motorcycles & luxury brands throughout Florida. Plans to operate in Georgia are underway for Fall 2017.
For more information:
Joe Sabatini
Festivals of Speed
2750 Dillard Road, Unit 8 Eustis, FL 32726
352-385-9450
joe@festivalsofspeed.com
www.FestivalOfSpeed.com