Ohnana Tents, Festival Lover's Preferred Option, Has Reached Wide Support on Their Kickstarter Crowdfunding Campaign
The Ohnana tent prevents unwanted, hot sleepless mornings when the sun burns through the outer layer of normal tents.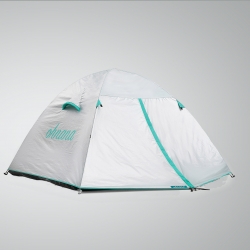 Amsterdam, Netherlands, July 06, 2017 --(
PR.com
)-- Ohnana Tents, a new, revolutionary business concept that focuses on creating ergonomic tents designed to maintain a moderate temperature regardless of external factors, has reached wide support for their global Kickstarter crowdfunding campaign to make their music festival-based tent a reality.
The Ohnana uses a special coating that reflects the heat and light, keeping up to three campers nice and cool inside. "We made this tent for people who want to make the most of their festival experience," said Wouter van der Meij, Founder and Owner of Ohnana Tents. "With Amsterdam being the EDM capital of the world, we are no strangers to tenting out for experiencing the best DJ performances we can witness today. Instead of waking up at the crack of dawn from uncomfortable sweating, festivalgoers are guaranteed to be well-rested and ready for another intensive day at their favorite festival."
The Ohnana tent stays 24°F cooler than conventional tents. The reflective coating on top of two separate layers of 170T polyester reflects the infrared light, preventing the tent from heating up to unbearable temperatures. The polyester material has a unique coating that reflects the heat and the sunlight, being used on both the outside and the inside of the tent. Additionally, the material is waterproof, so tent users will be effectively protected from the rain.
Passionate about natural airflow, the tent has two windows located in the inner tent so users have privacy and cooled down convenience. Plus, the tents come with a fan, powered by a powerbank or 3 AA-batteries. When using a powerbank, the fan provides a cool breeze for up to 10 hours. The fan dually functions as a source of light, equipped with 12 LED lights.
"In order to make our tent a widespread reality, we are seeking crowdfunding support to ensure high quality at prices consumers can afford, for $99 the Ohnana can be yours," said Wouter van der Meij. "Never settle for a sleepless festival night again. Spread the word about our campaign, and head on over today to learn more about the extensive features of the Ohnana Tent."
For more information, or to watch the product video, visit:
https://www.kickstarter.com/projects/ohnana/ohnana-the-coolest-tent-for-festival-lovers
Contact
Ohnana Tents
Wouter van der Meij
+31655019774
www.kickstarter.com/projects/ohnana/ohnana-the-coolest-tent-for-festival-lovers

Contact