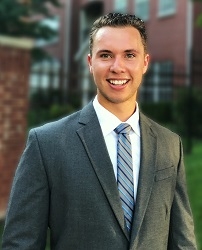 Farmington Hills, MI, July 18, 2017 --(
PR.com
)-- Brandon Hanna, Ryan Vinco and Deno Bistolarides, principals of Encore REIS are pleased to announce the arrival of their newest colleague, industry veteran Investment Sales Broker Kaleb Rupp.
Kaleb specializes in the acquisitions and dispositions of single tenant net leased assets. With a deep understanding of tenant's credit, leases, and real estate fundamentals, Kaleb can provide his clients with a strategic advisory role. By understanding each property, he is able to add a great value to each client on every transaction.
His consistent work ethic and determination has led him to successfully represent clients in the acquisition and disposition of net leased assets. Rupp's clients include developers, institutions, family offices, and individual investors.
While earning a degree in Sales and Marketing from The University of Toledo, he successfully provided tenant leasing advisory throughout Ohio. After graduating, Kaleb worked as an Associate Broker at Stan Johnson Company where he completed transactions across the United States. His prior experiences provide him with the knowledge to quickly underwrite and understand every asset he works on.
Kaleb's goal at Encore is clear; to be an asset with advising clients to strategically transform their commercial real estate portfolio into a dynamic investment vehicle to realize maximum value and long-term gains.
About Encore REIS:
Encore Real Estate Investment Services is dedicated to assisting clients in the acquisition and disposition of net leased and multi-tenant retail properties across the country. We provide advisory and brokerage expertise with the highest level of commitment and attention to detail, which ensures a higher assurance of closing and a faster turnaround time as each client is assisted and advised on strategic exit and entrance strategies aimed at achieving their investment goals.
Led by Principals Brandon Hanna, Ryan Vinco, Deno Bistolarides the team of distinguished brokers have evaluated, listed, sold and marketed over $5 Billion dollars' worth of investment restate nationally. We have a combined track record of investment real estate sales experience spanning 50 years. Through this experience, we continue to execute transactions on behalf of some of the most prominent developers, institutions and private investors in the industry. As such, we continue to build long-term relationships with the leaders in the investment community and grow our global database of investors and developers, which enables us to provide our clients with real estate investment services that are unmatched in the industry. We are results oriented - our advisors all have a shared vision of excellence and commitment to ensuring we are meeting our client's needs above all else.
www.encoreinvestmentrealestate.com