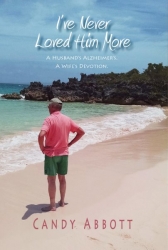 Georgetown, DE, July 29, 2017 --(
PR.com
)-- Candace F. (Candy) Abbott of Georgetown, Delaware has been recognized by Strathmore's Who's Who Worldwide for her latest book, "I've Never Loved Him More: A Husband's Alzheimers, A Wife's Devotion."
About "I've Never Loved Him More: A Husband's Alzheimers, A Wife's Devotion"
Because one in nine older Americans has Alzheimer's disease, many spouses are thrust into roles they never anticipated. Rather than gritting her teeth and saying, "I have to do this," Candy Abbott, in her new book, "I've Never Loved Him More: A Husband's Alzheimers, A Wife's Devotion," demonstrates what caregiving looks like from a perspective of "I get to do this."
"I've Never Loved Him More" is a chronological journey into the unknown and sometimes scary, dark world of Alzheimer's disease. Yet, this book is anything but dark and scary. It is delightful, funny, and heartwarming. According to Cindy Broschart, Alzheimer's advocate, "Candy's journey offers a vision of hope—the light in the tunnel, not at the end of the tunnel."
This book gives a captivating account of how a four-decade marriage suddenly beset by dementia and Alzheimer's can still exude romance and purpose. It begins at the point of diagnosis and goes through the mild and early-moderate phases of the disease. Writing not only from experience and the heart but also from her vital connection with God, the author tells the unvarnished, sometimes raw truth with the sincere motive of helping others in a similar situation. She shares with readers her candid journey of how the disease has changed their lives as she and her husband, Drew, continue to navigate the unknown path before them. With faith, intimate honesty, humor, and warmth, Candy describes the incremental and monumental changes foisted upon their marriage as the disease worsens in Drew's brain.
Nancy Rue, best-selling fiction author, says, "Like the true storyteller she is, Candy spins the funny scenes in a way that brings on the belly laughter, sometimes in the midst of tears. It's never forced. It's never inappropriate. It's just true wit born out of a cheerful spirit that cannot be daunted by even this long, trying ordeal. With her use of Scripture, Candy doesn't ask the reader to simply read the passages and have faith. Instead, she explains in a practical, concrete way how those verses work in a life being put through the refining fire. Writing truth from a place of authenticity, she speaks in simple terms to the person who is emotionally writhing, offering the benefit of her hard-won wisdom and experience without ever being condescending. She owns her mistakes as well as triumphs."
This book generates a human connection for anyone experiencing the painful throes of caregiving by visibly illustrating what one can expect when a disease dramatically changes a relationship. Moreover, the author offers creative ways to manage caring for a loved one while caring for oneself. Hope pulses on each page with Candy's vivid descriptions of their unpredictable days. Drew's memory loss and physical limitations have not stopped Candy from finding optimism, gratitude, and new memory-making opportunities for herself and her family. Alzheimer's may have taken Drew's memory, but it cannot take away her tenderness and stalwart commitment to see him through this season of their lives.
"I've Never Loved Him More" will serve as a companion to a caregiver in the often overwhelming moments of care. The woman sobbing because her husband is disappearing before her very eyes will be grateful for Candy's example of strength in the midst of adversity—and her whole family will benefit as well.
This book is also recommended for those who plan to marry. The author's story demonstrates what it means to live out those "in sickness or in health" vows. Masterfully and sincerely written, this work of the heart will leave an indelible mark on each reader.
Pastor Carol Svecz says, "I truly believe this book has the power to become a new standard reference for the Alzheimer's community."
About Candace F. (Candy) Abbott
Mrs. Abbott has more than 20 years experience in the publishing field. She is the president of Fruitbearer Publishing, LLC, and has clients throughout the United States. She publishes spiritual, inspirational and Christian themed books as well as children's picture books. Ms. Abbott oversees a team of professionals she calls "Vinedressers" who handle editing, graphic design, marketing, and other aspects of publishing, and she is responsible for the overall direction of the company. Her other published books include "Fruitbearer: What Can I Do for You, Lord," "Gavin Goodfellow and the Lure of Burnt Swamp" (Book 1 of the Burnt Swamp Trilogy), "Feelings: Prayers for Women in a Wacky World," "Mourning Breakers," "Spirit Fruit perpetual calendar," and "My 30-Day Prayer Diary." Her works are also included in numerous anthologies.
"I've Never Loved Him More" (ISBN 978-1-938796-08-1) is available on Amazon.com, fruitbearer.com, or wherever books are sold. For more information, contact Candy Abbott at 302.856.6649 or info@fruitbearer.com.
About Strathmore's Who's Who Worldwide
Strathmore's Who's Who Worldwide highlights the professional lives of individuals from every significant field or industry including business, medicine, law, education, art, government and entertainment. Strathmore's Who's Who Worldwide is both an online and hard cover publication where we provide our members' current and pertinent business information. It is also a biographical information source for thousands of researchers, journalists, librarians and executive search firms throughout the world. Our goal is to ensure that our members receive all of the networking, exposure and recognition capabilities to potentially increase their business.