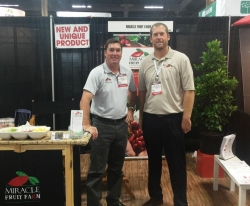 Miami, FL, August 16, 2017 --(
PR.com
)-- In 2012, brothers Erik and Kris Tietig started a farm not knowing exactly where it would take them. Their family had grown Miracle Fruit plants for 2 decades as part of a wholesale tropical fruit nursery in Miami, FL. Starting a brand new business based solely on this one crop was something new to them, but the groundswell in demand from several customers gave them peace of mind. Erik and Kris knew that Miracle Fruit was desperately needed by many across the country and they were the ones that could to do it.
Patients undergoing chemotherapy treatment were commonly developing a metallic taste to most food and drinks, often creating an aversion to eating. It was some of these customers who visited the brothers in the late 90's and early 2000's that first demonstrated the very real benefit this fruit can provide. Instead of purchasing the trees, they would come by to pick some fruit that would normally be wasted falling to the ground. Word slowly spread. Phone calls and walk-in customers inquired more and more about Miracle Fruit, scientifically known as Synsepalum dulcificum.
The Tietig brothers were ready to act. The reassurance from these local customers was all they needed to take the big leap to start
Miracle Fruit Farm
at a nearby location south of Miami in an agricultural district known as the Redlands. They started with a few thousand small plants that had limited fruit productivity. Although Miracle Fruit produces berries year-round, the amount of production is directly tied to the size and age of the tree. This is where the brothers felt they had an advantage over other growers who have tried their hand at this difficult crop. They were able to propagate and grow superior quality plants on a mass scale. As their plants started to grow, their berry harvests skyrocketed. A few thousand berries picked in one month now turned into several hundred thousand berries.
The brothers knew a traditional farm was not the answer to this non-traditional fruit. They needed a solution to help their customers while providing a practical means to deliver it. They were motivated by customers like Denise from College Station, TX who proclaimed, "From personal experience during chemotherapy, I can attest that consuming Miracle Fruit prior to eating temporarily eliminated the unpleasant taste in my mouth and made it possible for me to actually want to eat." Products like tablets made from freeze dried miracle fruit powder were already on the market from operations overseas. Erik and ad Kris felt there was an opportunity to develop their own tablet that would focus more on helping chemo patients and many other groups in need of stimulating or altering their sense of taste. Through trial and error helped by continuous feedback from their customers, the brothers finally developed a melting tablet that met their criteria – it tastes good, melts fast, and most importantly, it works just like a fresh berry.
This farm to table solution was years in the making. According to younger brother Kris, "We took so many twists and turns since we started the farm 5 years ago, I wasn't sure when we would reach our goal. We always knew it would take something our family could stand behind. I think we finally found it with these new tablets." The next step from this point is creating awareness. It's important to educate those suffering from negative taste alteration or a diminished sense of taste that there is a natural over the counter solution. The medical community in South Florida is already making strides to provide data behind the positive effects of Miracle Fruit. The Tietig brothers have donated tens of thousands of samples to several hospitals and research centers for continued study. The results according to Erik Tietig have been overwhelmingly positive. Further studies are currently underway which should validate past studies as well as provide credibility to the many people currently using Miracle Fruit to make food palatable again.