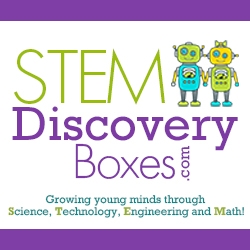 Etters, PA, September 14, 2017 --(
PR.com
)-- When talking education, STEM (or STEAM as some refer to it) is making a big impact in classrooms around the globe. The importance of a deep understanding of science, technology, engineering, art and math is proving to be more important than ever for the future careers of our children. STEM Discovery Boxes has been selling at-home STEM subscription boxes for the past few years and has seen a vast increase in interest from educators looking to provide a custom STEM experience for their students. A one-size-fits-all lesson plan does not actually fit everyone. Teachers have students of different ages, grades, abilities and interest levels as well as different topics and time constraints to factor into their curriculum.
Carrie Bryson, the owner of STEM Discovery Boxes, noticed that teachers and educators at schools, camps, clubs or other organizations often feel lost when searching the web for STEM curriculums. At STEM Discovery Boxes, teachers and other leaders can choose to work with one of theur STEM education experts to build a one-of-a-kind custom STEM/STEAM Classroom Kit at no extra cost. These Classroom Kits take into consideration the specific needs of each teacher, as well as the students they teach. "A little extra guidance can go a long way when trying to put together an educational package that fits each teacher's specific needs," says Bryson. "We make it easy and stress-free for those who work so hard to educate our children."
STEM Discovery Boxes offers a vast array of projects and topics for kids ages 7 to teen, from chemistry to physics to art. With over 50 projects to choose from, and more being added every month, teachers are sure to find the perfect mix of STEM activities for their students. Kids can explore hydraulics, motors, circuits, weather and more.
Bryson explains that "STEM Discovery Boxes activities and experiments teach children about STEAM in fun, creative, hands-on ways. Difficult topics are made easy to understand. Children learn how things work, why they work and how to create them. These projects provide opportunities for kids to build, explore and test all kinds of hypotheses and are designed specifically for their age group. STEM Discovery Boxes provides education in a way that amazes and excites children."
STEM Discovery Boxes Classroom Kits can take a child into a world where they can let their imagination run wild and build with multi-colored lights, alarms and propellers. They can create their own electronic drawing robot, build a working hydraulic elevator and make color-changing 'worms'. They can race custom-built robotic bugs, build a pumping heart and experiment with a foaming fountain. For teachers looking to get their students excited about learning in a convenient, hassle-free way, STEM Discovery Boxes has the solution.
For complete information, please visit: www.stemdiscoveryboxes.com.