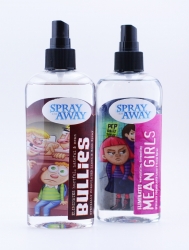 Phoenix, AZ, October 04, 2017 --(
PR.com
)-- Announcing a new anti-bullying spray targeted to boys ages 7-12 "Bullies Spray" and girls ages 7-12 "Mean Girls Spray." Currently, 40 teachers across the US, Mexico, Canada & Australia are seeing amazing results from a pilot program using an anti-bullying spray developed by Spray 'Em Away.
The two aromatherapy room sprays (Spray 'Em Away Bullies & Spray 'Em Away Mean Girls) contain lavender, sunflower and honey. [University of Maryland Medical Center reported that lavender essential oil may be beneficial in a variety of conditions including insomnia, anxiety and stress.]
Over 3.2 million students are victims of bullying each year, according to Dosomething.org. Spray 'Em Away products give teachers aromatherapy room sprays to use in their classrooms to start conversations about bullying, they help kids face their fears while supporting teachers' efforts to create a calming classroom discussion.
Faye Tait, the creator of Spray 'Em Away, developed the products after her son was bullied at school. "My goal was to create an interactive spray that would spark conversations about subjects, like bullying, that can be challenging to talk about."
Kellie Spinks, a 5/6 grade teacher from Australia, is using Spray 'Em Away Bullies while reading the "Wonder" book by R.J. Palacio to her students. "The Bullies spray has been a fantastic resource for my classroom. It fixes most problems and is good to use for restorative justice." Amy Hornbeck, 2nd grade teacher replied, "There was an incident when a young lady felt left out, a little bit of spray and a chat about including everyone followed." Ms. Chairez, a 4th grade teacher from Mexico said, "My students work better by smelling the spray and, unconsciously behave with good manners."
"It is encouraging to know our products are making a positive impact on this difficult and life changing problem," Ms. Tait said.
Spray 'Em Away Bullies and Mean Girls 8 ounce sprays are currently sold on Amazon for $14.95 in the US. A portion of the proceeds are donated to the anti-bullying non-profit PACER.org. Learn more at
sprayemaway.com.