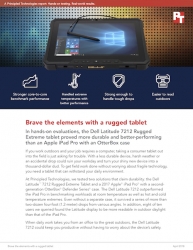 Durham, NC, July 20, 2018 --(
PR.com
)-- For those who work outside of a climate-controlled office, job-related technologies need to be able to handle harsh conditions.
Principled Technologies (PT) compared a Dell Latitude 7212 Rugged Extreme tablet to an Apple iPad Pro device with an OtterBox case in several tests. According to their new report, PT found the Dell Latitude tablet to be "more durable and performant" than the iPad Pro. The Dell Latitude performed better on single-core benchmarks at extremely hot and cold temperatures and functioned in a wider range of temperatures. The Dell device also survived 26 drops at various angles, and its screen that was more readable than that of the iPad Pro in sunny, outdoor conditions.
To learn more about the Dell Latitude tablet's durability and performance, read the full report at
http://facts.pt/HCppvN
and see the infographic at
http://facts.pt/cLF3BT
.
About Principled Technologies, Inc.
Principled Technologies, Inc. is the leading provider of technology marketing and learning & development services.
Principled Technologies, Inc. is located in Durham, North Carolina, USA. For more information, please visit
PrincipledTechnologies.com
.