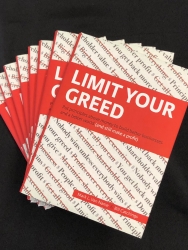 Durham, NC, February 15, 2017 --(
PR.com
)-- After nearly 15 years of challenging business norms by running a company committed to putting principles above money, Mark Van Name and Bill Catchings today release their business playbook.
Limit Your Greed: Put Principles above money to build better businesses and a better world (and still make a profit) confronts how conventional businesses operate and charges the people at the top to create a world where companies put people over profit. Van Name and Catchings believe that business leaders should choose to limit what they make so everyone on their teams can win when their companies succeed. LYG will spread that message by selling their transformative playbook as well as t-shirts that skewer accepted business norms. The book outlines their success story with their own company - Principled Technologies - and makes a compelling argument for a new approach to business.
According to the book, "We'd seen a company lay off many people so that a small group of key employees could receive their very large bonuses - something many companies have done and are still doing. We hated that approach. If you're really willing to limit your greed, can you accept good performers losing their jobs so others can get bonuses? Even if you're the ones receiving those bonuses? We couldn't."
For more information on the LYG movement, or to purchase the book, please visit
www.lyg.org
.
About the founders
Van Name and Catchings are the founders of Principled Technologies, Inc. (PT), a leading technology assessment, learning services, and marketing agency in Durham, NC. PT has been named a Best Place to Work in the Triangle for all three years it has participated in the conference, and its unusual business practices were the subject of a 2015
feature
in the News & Observer.
For more information, please visit
www.principledtechnologies.com
.
Contact
Limit Your Greed
1007 Slater Road, Suite 300
Durham, NC 27703
lygpress@lyg.org