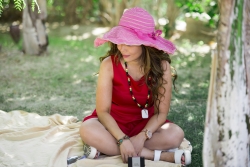 Los Angeles, CA, November 30, 2017 --(
PR.com
)-- Tracy McNulty is appearing in an all new urban comedy called "The Condo" and it will be released worldwide on Tuesday December 5, 2017. The seasoned actress who is also known as "Stresh" is appearing in the role of "Brenda" in this new film and she is also the co-producer. The sensational new urban comedy will be released for VOD and this release will be followed by a DVD release in March of 2018.
"I am very excited about the 'The Condo' and this much awaited comedy will entertain adults like never before," said Tracy McNulty, while talking about the new film. "I am playing the role of Brenda in this film, who is Juan's mistress and she enjoys doing it in risky outdoor venues, which makes her role really thrilling and exciting at the same time," she added. According to the Los Angeles based actress, the film is unlike any other teen/adult comedy of its kind and will take entertainment and comedy to the next level.
In addition, The Condo is a comedy about four married friends, who have a condo to share as a bachelor pad and a place to bring their mistresses until the wives and girlfriends bust the cheating spouses. It is a film by Baron Jay Films, which is directed by James Cullen Bressack. Moreover, Gravitas Ventures has acquired the rights to the film and more information about the cast is available on the IMBD page.
To find out more about the film, please visit its IMDB page at www.imdb.com/title/tt3721070. To find out more about the actress, please visit her website at:
www.tracymcnulty.com