Advance Reviews, Awards for Uniquely Normal: Tapping the Reservoir of Normalcy to Treat Autism Suggest a "Game-Changer" Book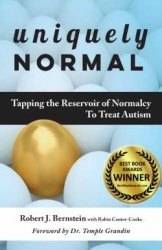 Arlington, TX, December 04, 2017 --(
PR.com
)-- Advance praise for Robert J. Bernstein's Uniquely Normal book involve terms like "ground-breaking,"1 "extraordinary,"2 "compelling,"3 "revolutionary"4 and an "alternative to Applied Behavior Analysis (ABA)."5
The book also just won the 2017 Best Book Awards' "Winner" in the "Health: Psychology/Mental Health" category as well as the Best Book silver award in "Parenting."
Bernstein's philosophy and treatment of those on the autism spectrum are depicted in his book, which is based on over three decades of working in his New York practice with children and adults, almost all of whom also didn't talk.
His initial gift to his patients and their families is he gets the kids and adults on the autism spectrum to talk and, as a result, he "markedly improve(s) their ability to function effectively with others."6
His greater contribution, however, may well be the book itself, because Uniquely Normal illustrates to parents and professionals an alternative to what is the most highly-funded and practically mandated therapy today for early intervention for autism: ABA therapy.
Bernstein joins other contemporaries who believe most on the autism spectrum are as perplexed about us, the neurotypicals, as we are of them. Bernstein contends "you have to follow them – not force them to imitate us – and delve into their 'reservoir of normalcy' so they can understand – rather than imitate – our need for 'societal norms.'
"We should not try to change them into who we are, because we need to recognize and appreciate their differences," says Bernstein. He cites Temple Grandin's famous statement that "Being different doesn't mean we're less."
Dr. Grandin, the most famous person with autism in the world, wrote the Foreword to Uniquely Normal.
Bernstein's fascination with those who are "different" developed because he had an older brother he admired, even though his brother fell into the category "of speaking bluntly and infrequently," before most anyone recognized the characteristics of autism.
The author gravitated into the field in his undergraduate and graduate studies at Teachers College, Columbia University, after which he developed his practice based on learning theories of giants in the educational field, John Dewey and Jean Piaget.
The book is comprised of an extensive introduction in which Bernstein explains his approach to understanding individuals on the autism spectrum. Among other things he provides in his book are his "astounding insights into the fascinating minds on the autism spectrum."7
The rest of the book is comprised of 27 case studies organized in different age groups to illustrate the various techniques he's used to gain entry into their perceptions and actions in order for them to gain understanding of others as well as themselves.
"Bernstein's Uniquely Normal has mapped out a practical path for parents to increase the skills and independence of kids on the autism spectrum while respecting their ways of experiencing the world, supporting their autonomy, and avoiding the traumatizing methods of ABA and other purely behavioral approaches," states Steve Silverman, the author of Neuro Tribes: The Legacy of Autism and the Future of Neurodiversity.
Bernstein will be available for speaking and book signing events at book stores and other venues, including academic institutions, beginning in December 2017.
Future Horizons, Inc. publishes Uniquely Normal.
Interviews, photos, and/or background material can be arranged by contacting Lyn Dunsavage Young, Media Coordinator, Future Horizons, Inc. at lyn@fhautism.com or 88.489.0727.
Footnotes
1. Rob Bernstein's book presents a ground-breaking, clear, and well-reasoned alternative approach to working with children, adolescents, and adults with autism spectrum disorders. A must-read for parents, psychologists, teachers, and those who care for and nurture individuals with ASD.
- Gloria S. Lazar, MS, MPhil, CCC, Speech-Language Pathologist
1. Uniquely Normal is a uniquely insightful study of human nature. Groundbreaking in what it reveals about the autism spectrum, it simultaneously speaks to the power of the great tradition of ethnographic research."
- Steven L. Strauss, MD, Neurology; PhD, Linguistics; Diplomat of the American Board of Psychiatry and Neurology; Former Professor of Neurology at the University of Maryland, currently in private practice in Baltimore, Maryland.
CORRECTION: Dr. Strauss has not "received the John Dewey Award for Excellence in the Teaching of Children from Middlebury College," and he has not attended or taught at Middlebury College, which also does not have the John Dewey Award at its institution.
2. Any reader who has been drawn in by Oliver Sacks' marvelous case studies will be drawn to Rob Bernstein's new book, Uniquely Normal. Bernstein, a born storyteller, brings his experiences with autistic children to life so that any parent or caregiver will be inspired and guided to try his tested approach to affect profound change in their loved ones. His book teaches behavioral and speech strategies that shift patterns of behavior and yet honor the individuality of each child. In this extraordinary work Bernstein employs vivid case studies – transformed into compelling stories – to revolutionize the way parents and caregivers think about and treat autistic children.
- Steve Zeitlin, Ph.D. Founding Director, City Lore
3. Rob Bernstein offers a compelling and engaging model in the treatment of autism. This is an enjoyable and informative read for anyone who has a person with autism in their life.
- Mark Krakauer, MD, Pediatrician
4. Bernstein's methodology, developed after years of experience in the present educational system that clearly fails most of these individuals, demonstrates a revolutionary cognitive approach to autism that departs from current practice. It is a must read for all parents and professionals dealing with autistic children.
- Douglas P. Hudson, MD, MPH
5. A deeply moving account of the multi-faceted nature of autism, its course, and the power of believing in one's capacity to be - as is. Bernstein, with Cantor-Cooke, takes the reader on a tender, textured, and experience-near journey that illuminates the clinical benefits of an individualized, patient-centered approach to treating individuals who have been diagnosed with autism. A must-read for anyone who has wondered about alternatives to Applied Behavior Analysis (ABA), recognizes the multilayered experience of an individual with autism, and, most movingly, believes in the transformative nature of a core human connection."
- Lara Sheehi, PsyD, Assistant Professor of Clinical Psychology, The George Washington University
6. Without exception, Rob Bernstein's work with these patients has markedly improved their ability to function effectively with others. He has a unique ability to engage with people, gently yet firmly coaxing them into the wider world, often for the first time. Once there, he guides them toward claiming their competence and channeling their untapped strengths. I stand behind Rob Bernstein's techniques without reservation.
- Ram Kairam, MD, Pediatric Neurologist, Developmental Neurology Associates (DNA); Professor of Neurology, Columbia University Medical Center
7. Uniquely Normal provides astounding insights into the fascinating minds on the autism spectrum, and much-needed guidance to parents of neurotypical and atypical children alike.
- He Xu, PhD, Harvard University
Contact
Future Horizons, Inc.
Evelyn Dunsavage
817.277.0727
fhautism.com
Lyn Young

Contact