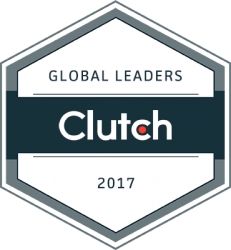 New York, NY, December 20, 2017 --(
PR.com
)-- HQSoftware has been rated as being amongst the world's top IoT Developers and amongst the world's top Virtual and Augmented Reality Developers by Clutch in its Global Leaders List 2017.
To determine the top performers from around the world, Clutch evaluated companies based upon client reviews, market presence, and ability to deliver high-quality services. Clutch contacted current and former clients and obtained their input on a range of qualitative and quantitative topics, with client feedback weighted by project size and complexity, evaluated the client portfolio and types of projects completed for those clients, and considered issues relating to market presence and reputation. The Leaders Matrix then maps the firm based on its area of focus and its ability to deliver.
HQSoftware was identified as amongst the best companies with a particular focus on IoT, AR, and VR winning recognition for its high quality of delivery and for its excellent project management, being especially praised for its proactive communication, responsiveness and flexibility.
Sergei Vardomatski, HQSoftware's CEO, comments, "It is very gratifying to be rated as being amongst the sector leaders globally, and our team can take pride in the high quality of services that customers recognise we provide. Customer satisfaction and our determination to meet and exceed their requirements is what drives and motivates us."
About HQSoftware
Established in 2001,
HQSoftware
provides end-to-end software development services to help businesses power their customers, partners, and employees through various channels. With headquarters in Tallinn, Estonia, office in New York City, USA, and a development center in Minsk, Belarus, HQSoftware delivers worldwide.
The company's core domains include
Internet of Things
(Industrial, Healthcare, Automotive, Smart City, etc.), Augmented and Virtual Reality, E-learning, Finance and Banking, and Video solutions. For the IoT vertical the team provides any development above low-level programming for hardware: from high-level development for devices and sensors to web and mobile application development and third-party integrations.
HQSoftware's transparent development processes and established workflows enabled the team to successfully deliver over 400 projects to such world-known brands as HTC, BBC, Skoda, Sega, World Health Organization, and many others.
About Clutch
A B2B research, ratings, and reviews firm in the heart of Washington, DC, Clutch connects small and medium businesses with the best-fit agencies, software, or consultants they need to tackle business challenges together and with confidence. Clutch's methodology compares business service providers and software in a specific market based on verified client reviews, services offered, work quality, and market presence.