Fortress Power Providing a New Energy Storage System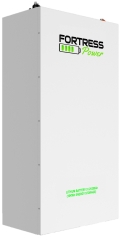 Philadelphia, PA, January 23, 2018 --(
PR.com
)-- Fortress Power is introducing high performing Lithium Ferrite Phosphate batteries to the energy sector. The battery system is intended for home and business owners who don't have time to worry about power outages or costly spikes in their electricity bill. Fortress Power Battery is designed to be integrated into homes and businesses with or without solar - allowing continuous power, day or night.
In 2018, Fortress Power is launching the release of their 10 kWh and 15 kWh energy storage systems in the United States. When using solar, Fortress batteries are equipped with enough energy to power your home and meet all of your home's energy needs on a typical day. The large power capacity offers a fast charging and high continuous discharge current. Lithium Ferrite Phosphate batteries operate with a wider temperature range, providing efficient round-trip conversion and consistent reliability. The battery is also designed to be compatible with the many different chargers and inverters that are available on the market. And thanks to their lightweight and compact design, each battery can also be easily installed in under one hour.
The battery's design is constructed to be small enough so that they can be to be stored in your home or business. And unlike traditional lead acid batteries, lithium ferrite phosphate is proven to be safer because it won't release harmful gases that put you or your loved ones at risk. Check out the Fortress Power website
www.fortresspower.com
today to find out more information about which battery suits you best!
Contact
Fortress Power
Jing Yu
877-497-6937
fortresspower.com

Contact