American Public Television Co-Produces and Syndicates "Jesus: Countdown to Calvary," with Hugh Bonneville, for Easter 2018

Boston, MA, February 06, 2018 --(
PR.com
)-- Co-produced by RTÉ, American Public Television (APT) and ARTE, and releasing on public television stations nationwide March 1, 2018, "Jesus: Countdown to Calvary" is a new documentary, syndicated by APT (aptonline.org), in which actor Hugh Bonneville (Notting Hill, Downton Abbey, Paddington) examines the events leading up to the death of Jesus of Nazareth.
Bonneville, a theology graduate of Corpus Christi College, Cambridge, travels to Jerusalem to explore the historical context of the last six days of Jesus' life. With the help of noted academics and spiritual leaders, he investigates the complex factors that turned a popular preacher into a reviled victim of the Romans' most brutal form of execution – crucifixion.
Hugh and his guides utilize ancient artifacts, Gospel texts, historical analysis and modern insight to provide a fresh perspective on the social, religious and political tensions at play in first century Jerusalem. The legacies of leading figures like Pontius Pilate, Caiaphas and Judas Iscariot are brought into focus; long-held assumptions, some of which formed the root of centuries of anti-Semitism, are challenged head on.
Featuring state-of-the-art production values, the documentary is framed as a high-stakes political thriller, a clock counting down each critical moment from Palm Sunday to Good Friday.
An enriching and engaging film available for the 2018 Easter season, the documentary offers a nuanced exploration of the questions that have existed for more than 2000 years, treating the subject with sensitivity, rigour and historical integrity.
Contributors include Prof. Helen Bond (University of Edinburgh); Prof. Paula Fredriksen (Hebrew University, Jerusalem), author of From Jesus to Christ (1988; 2000); Dr. Zuleika Rodgers (Trinity College, Dublin); Prof. Ronny Reich (Hebrew University, Jerusalem); Amit Re'em (Israeli Institute of Archaeology); Fr. Gregory Tatum OP (École Biblique, Jerusalem) and Amos Oz, the acclaimed Israeli author of Judas.
Professor Bond (MTheol PhD) is the principal academic consultant on the project. She is Professor in Christian Origins with Specialization in New Testament and, since July 2011, Director of the Centre for the Study of Christian Origins (CSCO), which aims to promote research into the earliest period of Christianity.
Jesus: Countdown to Calvary is a co-production of RTÉ (Ireland), American Public Television (APT) and ARTE and will be available for Syndication to public television stations beginning March 1, 2018, from American Public Television.
About APT:
American Public Television (APTonline.org) is the leading syndicator of high-quality, top-rated programming to the nation's public television stations. For more than 10 years, APT has annually distributed one-third or more of the top 100 highest-rated public television titles in the U.S. Founded in 1961, among its 250 new program titles per year, APT programs include prominent documentaries, performance, news and current affairs programs, dramas, how-to programs, children's series and classic movies. America's Test Kitchen From Cook's Illustrated, Cook's Country, AfroPoP, Rick Steves' Europe, Front and Center, Doc Martin, Nightly Business Report, Midsomer Murders, A Place to Call Home, Lidia's Kitchen, Globe Trekker, Simply Ming, and P. Allen Smith's Garden Home are a sampling of APT's programs, considered some of the most popular on public television. APT licenses programs internationally through its APT Worldwide service. Now in its 12th year, Create®TV - featuring the best of public television's lifestyle programming - is distributed by American Public Television. APT also distributes WORLD™, public television's premier news, science and documentary channel. To find out more about APT's programs and services, visit APTonline.org.
About RTÉ:
RTÉ (Raidió Teilifís Éireann) is Ireland's national public-service media organisation. A leader in Irish media, RTÉ provides comprehensive, cost-effective, free-to-air multi-media services to the public in Ireland and interested audiences internationally. RTÉ's radio service began on 1 January 1926, while television broadcasts began on 31 December 1961, making it one of the oldest continuously operating public service broadcasters in the world. Learn more about the history of RTÉ at www.rte.ie. RTÉ services are impartial in accordance with statutory obligations. At its heart, RTÉ is a creative organisation, making and commissioning a broad range of high-quality programming and content to meet the needs of multiple audiences. Watch our latest EXPLORE RTÉ video at www.rte.ie/player/, bringing you an update of news content across RTÉ. For more from EXPLORE RTÉ, visit www.rte.ie/explore/
About ARTE:
ARTE (www.arte.tv) offers high-quality programmes to 70% Europeans in their own language. ARTE programmes are broadcast in French and German 24 hours a day in HD quality on all screens. For 600 hours a year magazines, documentaries and shows are subtitled in English, Spanish, Polish and soon also in Italian. This is a unique experience cofinanced by the European Union since 2015 "to foster EU integration through culture by providing new subtitled versions of selected TV programmes across Europe." As the European Culture Channel, ARTE provides cultural programming that fosters understanding among Europeans and brings people together. Since its creation in 1991, ARTE stands for cultural diversity and multilingualism. ARTE uncovers new talent, encourages artistic creativity, and preserves and promotes Europe's cultural heritage. ARTE supports talented film-makers as a co-producer and shows ambitious new creations, daring drama and series. On offer are also bold documentaries, no infotainment but daily news of vital interest to Europeans. Not to forget the live music and performances and avant-garde magazines.
Press Contact:
Diane Buxton
(617)-835-5793
dianebuxtonphoto@gmail.com
American Public Television:
Sarah Bichsel
(617) 338-4455, ext. 150
Sarah_Bichsel@APTonline.org
Contact
American Public Television
Diane Buxton
617-835-5793
aptonline.org
American Public Television:
Sarah Bichsel
(617) 338-4455, ext. 150
Sarah_Bichsel@APTonline.org

Contact
Multimedia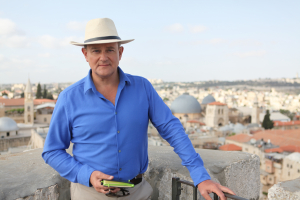 Hugh Bonneville with Jerusalem skyline while filming APT's Jesus: Countdown to Calvary. Credit: Noam Sharon for RTE (C) 2017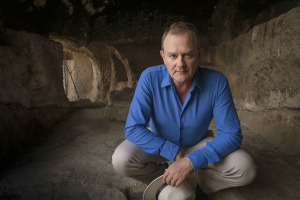 Hugh Bonneville in 1st Century Tomb while filming APT's "Jesus: Countdown to Calvary" in Jerusalem. Credit: Kieran Slyne for RTE (C) 2017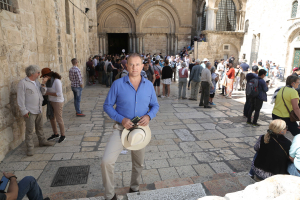 Hugh Bonneville at the Church of the Holy Sepulchre while filming APT's "Jesus: Countdown to Calvary" in Jerusalem. Credit: Noam Sharon for RTE (C) 2017