Jon Letko, CEO of Global Healthcare Management to Sponsor 2018 Valerie Fund Walk and 5K Run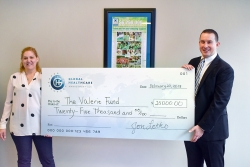 Milford, NJ, February 26, 2018 --(
PR.com
)-- Global Healthcare Management proudly announces its sponsorship of the 2018 Valerie Fund Walk & JAG Physical Therapy 5K Run.
Global Healthcare Management
will show their support for the Valerie Fund by signing on as a
major sponsor
of this event, a commitment that includes a donation of $25,000.
New Jersey residents Ed and Sue Goldstein founded the Valerie Fund in 1977 in honor of their daughter, Valerie, who passed away from cancer at just 9 years of age. After Valerie's diagnosis, the Goldstein family discovered that the nearest clinic specializing in pediatric cancer was over 90 minutes away, in New York City. In order to provide their daughter with the care she needed, her parents made frequent trips back and forth to the clinic. The long drives took a toll on the entire family -- but Valerie especially -- who often felt carsick due to the cancer treatments. Unfortunately, it was their only option.
After Valerie passed away, the Goldsteins were determined to found an organization in her honor. Their mission: to provide families with accessible outpatient treatment centers at the top pediatric hospitals in New Jersey. They wanted state-of-the-art medical and emotional care available close to home so more children weren't forced to go through what Valerie did.
Over 40 years later, Valerie's memory lives through the seven different treatment centers operated by the organization throughout New Jersey, New York City and the Philadelphia area. Since the Valerie Fund's inception, it has treated and supported tens of thousands of children suffering from cancer and blood disorders.
Jon Letko,
CEO of Global Healthcare Management, explains what the partnership means to his company:
"We were introduced to the Valerie Fund last year and began our partnership with sponsoring the 2017 Valerie Fund Walk. The event was amazing and heartwarming, seeing all of the Valerie Fund kids in their green t-shirts. It's truly inspiring to see firsthand the devotion the Valerie Fund team has for the work they do and for the children they are doing it for. I feel fortunate to once again be involved with this event and with this remarkable organization."
Global Healthcare Management's team is proud to be walking for the second year in a row to raise money for the Valerie Fund and the important cause it champions.
To learn more about this foundation or to sign up for the 2018 5K Run or walk, please visit:
https://thevaleriefund.org/Walk2018/about.php.
Contact
Global Healthcare Mgmt
Billie Orlando
908-505-1626
www.ghcm.com

Contact