The Leading U.S. Islamic Home Financing Provider Launches New Mobile App
Guidance Residential's new mobile app, "giOS for Homeowners" brings riba-free home financing to the fingertips of homebuyers and refinancers.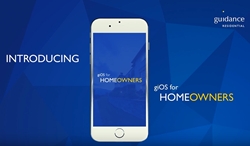 Reston, VA, February 28, 2018 --(
PR.com
)-- Guidance Residential, the leading U.S. Islamic home financing provider, announced today the launch of its new mobile app for homeowners that provides a faster, more transparent and convenient home financing experience to consumers. The new app, named "giOS for Homeowners," allows homebuyers to track their financing application status in real time from any place with an internet connected mobile phone.
The addition of this technology platform demonstrates Guidance Residential's commitment to continue its leadership as an innovative, consumer-focused and cutting-edge digital home financing provider in the Islamic fintech market. "GiOS for Homeowners" uses innovative technology to simplify and automate the back-end operations of the home financing process, while streamlining the communication between homebuyers, financing associates and real estate agents. The platform also provides planning tools, white papers and explainer videos to help homebuyers learn about Guidance Residential's proprietary Declining Balance Co-ownership Program.
"We see Guidance Residential as a technology company that happens to operate in the home financing industry, and a company that leads the way in the U.S. Islamic finance market through digital innovation," said Khaled Elsayed, president and chief executive officer of Guidance Residential. "This new technology platform will allow us to connect with the millennial homebuyers, facilitate their home financing process from start to finish in a more transparent and simpler way, and bridge the communication gaps that traditionally exist in the home financing industry between consumers, real estate agents and the financing provider."
The new mobile app will allow consumers to:
· Pre-Qualify for riba-free home financing in less than 10 minutes.
· Use estimation calculators to determine affordability and evaluate home financing options.
· Find latest rates and compare rates with other providers.
· Access educational content to learn more about how Guidance Residential's Islamic home financing program works.
· Stay informed via notifications throughout the home financing process from applying to closing.
· Connect with a Guidance Residential Account Executive with a single click.
· Add real estate agents or family members to follow the progress of the home buying process.
The "giOS for Homeowners" app is now available on the App Store and Google Play.
To download the app, visit the following links:
App Store: https://apple.co/2BSt0oZ
Google Play: http://bit.ly/2CeXzRs
For media inquiry, contact: communications@guidanceresidential.com
For more information about Guidance Residential, visit: https://www.GuidanceResidential.com
About Guidance Residential
Guidance Residential is the leading provider of Islamic home financing in the United States. Since its inception in 2002, Guidance Residential has funded over $4.9 billion in Shariah-compliant home financing contracts. Guidance Residential's proprietary Declining Balance Co-ownership program is trusted as a strictly Shariah-compliant home financing program in the U.S. Islamic finance market. The Declining Balance Co-ownership Program received the highest rating by The Assembly of Muslim Jurists of America (AMJA).
Guidance Residential offers Shariah-compliant home financing in the following U.S. states:
Connecticut, Massachusetts, New Jersey, New York, Pennsylvania, Rhode Island, Illinois, Michigan, Minnesota, Ohio, Wisconsin, Arizona, Kansas, Texas, Delaware, Kentucky, Maryland, Virginia, Washington D.C., California, Oregon, Washington, Alabama, Arkansas, Florida, Georgia, North Carolina, South Carolina, Tennessee
Guidance Residential, LLC, (Nationwide Mortgage Licensing System No.2908), 11107 Sunset Hills Rd, Suite 200, Reston, VA 20190 is licensed by the Department of Business Oversight under the California Residential Mortgage Lending Act (413-0427); Alabama Consumer Credit (22410); Arizona Mortgage Banker (0923408); Arkansas Mortgage Banker-Broker-Servicer (112069); Colorado Mortgage Company Registration; Connecticut Mortgage Lender (18263); Delaware Lender (022090); District of Columbia Mortgage Dual Authority (MLB2908); Florida Mortgage Lender (MLD656); Georgia Mortgage Lender (17286); Illinois Residential Mortgage Licensee (MB.0006455 11107 Sunset Hills Road, Suite 200, Reston, VA 20190; MB.0006455-001 100 East Roosevelt Rd, Units 44 & 45, Villa Park, IL 60181) licensed by the ILDFPR, James R Thompson Center (JRTC), 100 West Randolph Street, 9th Floor, Chicago, IL 60601, 888-473-4858 (General), 844-768-1713 (Banking Div); Kansas Licensed Mortgage Company (MC.0025178); Kentucky Mortgage Company (MC361158 & MC361566); Maryland Mortgage Lender (12927); Massachusetts Mortgage Lender (ML2908); Michigan 1st Mortgage Lender, Broker & Servicer Registrant (FR-0941); Minnesota Mortgage Originator (MN-MO 20320419); New Jersey Licensed Lender (9933648); New York – Licensed Mortgage Banker – New York Department of Financial Services (B500726) (NY location: 171-21 Jamaica Ave, 1st Floor, Jamaica, NY 11432); North Carolina Mortgage Lender (L-112542); Ohio Mortgage Broker Act Mortgage Banker Exemption (MBMB 850079.000); Oregon Mortgage Lender (ML-4145); Pennsylvania – licensed by the Pennsylvania Department of Banking, Mortgage Lender (21050); Rhode Island Lender License (20163318LL); South Carolina BFI Mortgage Lender/Servicer (MLS-2908); Tennessee Mortgage License (109274); Texas SML Mortgage Banker Registrant; Virginia Lender Licensee (MC-2138) licensed by the Virginia State Corporation Commission; Washington Consumer Loan Company (CL-2908); Wisconsin Mortgage Banker (46355BA).
Contact
Guidance Residential
Riffat Lakhani
1.866.484.3262
https://www.guidanceresidential.com/

Contact