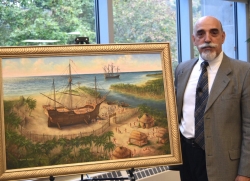 Lisbon, Portugal, March 06, 2018 --(
PR.com
)-- The true identity of Christopher Columbus will be center stage from March 8th through 10th at the Maritime Academy in Lisbon, Portugal. Billed as "Admiral Colón: Made in the West," this congress is the first time Portugal has opened up a topic so intertwined with its maritime history and yet so universally known. During this three-day event, the greatest international authorities on Columbus will present new research and draw conclusions that are certain to challenge deeply held views.
Up until now, Columbus has been mistaken for a Genoese wool-weaver's son who washed up on a beach in Portugal and made his way to the Spanish Court with a brazen idea.
The broad outline of what emerges from the new research, however, shows that Columbus was in fact a royal prince and a highly educated member of the Portuguese nobility. Loyal to King John II of Portugal, under the pseudonym of Cristóbal Colón, he accomplished one of the greatest counter-intelligence feats in world history.
Deliberate misinformation spread by Portugal at the time contributed to subsequent confusion among generations of researchers, but other factors abound. The newly emerging portrait of Columbus is rich and complex. The quantity and variety of evidence supporting it is formidable. Distinguished participants have been attracted from the USA, Puerto Rico, Belgium, Italy and Spain, along with such locals as Manuela Mendonça, President of the Portuguese Academy of History.
Also participating will be our own Manuel Rosa, author of "COLUMBUS-The Untold Story" (USA, 2016) winner of the 2017 Independent Press Awards® in World History and of "COLUMBUS: Mystery Solved," (Portugal, 2017), the most coherent synthesis of research spanning more than a quarter of a century, radically redefining the role and identity of Christopher Columbus.
First International Congress
"Admiral Colon: Made in the West"
at the Maritime Academy:
Academia de Marinha
Rua do Arsenal, Lisboa, Portugal
Lectures on Columbus 8th - 9th of March, 2018
Visit to Columbus' wife's tomb 10th March, 2018
More information:
http://colon-portugues.blogspot.pt
http://christo-colon.blogspot.com
For Rosa's credentials as a world authority on Christopher Columbus, please see: manuel-rosa.com