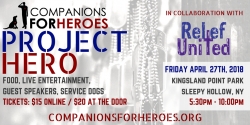 Sleepy Hollow, NY, April 05, 2018 --(
PR.com
)-- Infield Media & Promotions has partnered with Companions for Heroes and The Relief United Team to present and promote a Fundraising Event called "Project Hero." This event will be held on April 27th, 2018 at the Kingsland Point Park in Sleepy Hollow, NY. The event will be held from 5:30 to 10:00 PM.
This important fundraiser is being presented in support of the "Companions for Heroes" (C4H) program. According to Relief United all of the funds raised will go directly to C4H.
The C4H program was founded in 2009 and has a mission of pairing shelter and rescued animals with 1% of our nation that volunteer to be public servants who place themselves in harm's way who are challenged with PTSD and dealing with the experiences they have had protecting our way of life. Throughout C4H's years the program has aided over 7,000 of America's Bravest and found caring homes for numerous shelter animals.
The evening of honor and festivities will include special guest speakers, the opportunity to meet other veteran run businesses and programs, C4H dogs and veterans including two recipients of the C4H benefit. There will be music and plenty of food available from a variety of food trucks. Admission to the event if $15 if purchased in advance via the website at:
companionsforheroes.networkforgood.com/events/6021-project-hero-powered-by-relief-united
Tickets may also be purchased at the event for $20. The Relief United Team has pledged 100% of the donations and profits will go directly to C4H.
About this important benefactor and why it is important to attend this event.
C4H is committed to providing a shelter or rescue animal [companion] to the active duty service member, military veteran, law enforcement officer, first responder and their family member that do not have a companion in their life.
Companions for Heroes (C4H) provides companion animals obtained from shelters and/or rescues, who might otherwise be euthanized, free of charge to active duty military personnel, military veterans, and first-responders recovering from the psychological challenges they suffered during service to our country. C4H increases public awareness of Post Traumatic Stress Disorder (PTSD), traumatic brain injury (TBI) and other challenges confronting our country's heroes; and rally's support for animal welfare and the adoption of shelter and/or rescue animals.
C4H is a non-clinical and non-facility based organization that places special emphasis on creating mutually beneficial opportunities for shelter and rescue animals, some who might otherwise be euthanized, and our nation's service men and women by accessing the expertise of medical care professionals and animal welfare organizations. C4H is an Animal Assisted Activity (AAA) program that recognizes the incredible power of the human-animal relationship and seeks to support those suffering from psychological stress as they pursue recovery with the unconditional love of a pet.
C4H (Companions For Heroes) is a registered 501(c)(3) nonprofit organization. C4H's federal ID number for donations is: #27-0648741. If you cannot attend but would like to donate you may do so through the C4H website at
companionsforheroes.networkforgood.com
.
About Relief United: Relief United started as a group of seven teenagers looking to make a difference and after a year of existence, is now comprised of over 60 high school outreach students from 12 different schools in the NYC metropolitan area. The organization has been working closely with the Sleepy Hollow Board of Trustees in hopes of attracting the local population to this special evening. "Our goal is to unite all the youth and energy in Westchester to properly honor those brave men and women who sacrificed everything for our freedom." Follow Relief United on Instagram @reliefunited, Facebook reliefunitedsleepyhollow and Twitter: https/twitter.com/reliefunited. Support this effort @reliefunited.org
Infield Media & Promotion, Inc provides contracted PR and Marketing to Veteran Support Organizations. For press inquiries about this event please contact Ms. Cecillia Lin at
PR@InfieldMedia.com
or 336-365-6624.