Now on Kickstarter: Spring in Sakuragaoka, an Original Work of Art by Award-Winning Kick-Heart Anime Background Artist, AYMRC
Well known for his collaborations with award-winning director and animator, Masaaki Yuasa, AYMRC's pop-anime-style artwork now enters the puzzling world.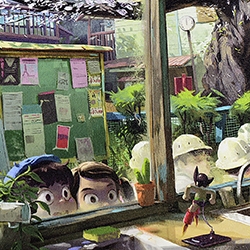 Lebanon, PA, May 23, 2018 --(
PR.com
)-- The anime art company Playing Grounded, Ltd. aims to raise $5,000 to produce five hundred, Limited-First-Edition puzzles featuring the animation artist's independent work, titled Spring in Sakuragaoka. The team will use the raised funds to cover both manufacturing and freight costs. For a $40 pledge, backers will receive a premium quality puzzle, certificate of authenticity, and a full-color 4" x 6" print of the art. The campaign will run until June 22, 2018.
"It [Spring in Sakuragaoka] is one of my favorite personal illustrations," said AYMRC (aka Aymeric Kevin). "I had so much fun painting it. So the idea that someone will dive into it and play with it, committed to putting the right pieces together and rebuilding the illustration from scratch, sounds thrilling to me."
This isn't the first time AYMRC's art has been featured on Kickstarter. In 2013, his brightly colored background art made an explosive debut on the crowdfunding platform in Masaaki Yuasa's anime short, Kick-Heart, which raised a total of $201,164 with the help of over 3,200 backers.
"It's truly an honor to work with Aymeric," said company founder and president Eric Andersen. "This collaboration has been an absolute pleasure. We really love his fun art style; it's colorful, full of details, and he's always got an abundance of plant life in his paintings. Choosing Spring in Sakuragaoka was a no-brainer for us. It's got everything we look for in puzzle art."
Puzzle Specifications:
· Exact Puzzle Dimensions: 27.52" x 19.57" (69.90 cm x 49.70 cm)
· Each puzzle comes in a Limited-Edition box, 14 5/8" x 10 5/8" x 2 1/8" (37.16 cm x 27 cm x 6.68 cm).
· Each puzzle and box features a textured, linen finish to reduce glare.
· Manufactured in Europe with the highest quality materials.
· Certificate of Authenticity and Kickstarter-Exclusive Postcard included with each puzzle.
https://www.kickstarter.com/projects/playinggrounded/spring-in-sakuragaoka
About Aymeric Kevin
Originally from France, AYMRC (aka Aymeric Kevin) is a visual development artist and background director best known for his pop-anime art style. He has been specifically chosen by award-winning director and animator Masaaki Yuasa to collaborate on projects such as: the Kickstarter-funded anime short, Kick-Heart; the award-winning Ping Pong the Animation; the cult-classic anime series, Space☆Dandy (from the creator of Cowboy Bebop, Shinichirō Watanabe); and the hugely popular Cartoon Network series, Adventure Time ("Food Chain episode"). A graduate of the top-rated college of animation, Gobelins School of the Image in France, AYMRC is highly respected by the professional animation and artist community worldwide. He is currently the senior artist at Riot Games.
About Playing Grounded
Eric and Lara Andersen, husband and wife team, founded Playing Grounded in 2013. More than just a puzzle company, Playing Grounded is dedicated to providing an alternative to pop-culture for those with refined tastes looking for high quality products and collectible art. The team works one-on-one with independent artists that specialize in Japanese anime, animation, gaming, and comic styles of art - to offer captivating imagery that can be appreciated by fans and collectors for years to come. The company's last Kickstarter, Limited Edition Puzzles: Anime Illustration by Fuzichoco, raised over $12,900.
Playing Grounded, Ltd.
www.playinggroundedpuzzles.com
Aymeric Kevin
https://www.facebook.com/AYMRC/
http://aymrc.blogspot.com
http://aymrc.tumblr.com/
Contact
To learn more about this Kickstarter, please contact:
Lara Andersen, Vice President
Phone: (610) 731-6250
Email: pgpuzzles.contact@gmail.com
Contact
Playing Grounded Ltd.
Lara Andersen
610-731-6250
www.playinggroundedpuzzles.com

Contact