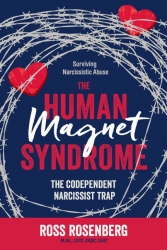 Chicago, IL, May 24, 2018 --(
PR.com
)-- "The Human Magnet Syndrome: The Codependent Narcissist Trap" by Psychotherapist Ross Rosenberg
Since the first romantic kiss, men and women have been magnetically and irresistibly drawn into romantic relationships, not so much by what they see, feel and think, but more by an invisible and irresistible magnetic love force. Such is what Ross Rosenberg calls "The Human Magnet Syndrome," which pulls "magnetic opposite" codependents and narcissists into a relationship trance that begins like a dream, but quickly disintegrates into a maddening nightmare. Predictably, the "soulmate" of the codependent's dreams inevitably and predictably becomes the "cellmate" of their nightmares.
Six years after the publication of Rosenberg's break-through first book, "The Human Magnet Syndrome: Why We Love People Who Hurt us," Rosenberg went back to work to completely revise, re-write, re-organize and expand his original work. This book explains why, despite their dreams for true love, find themselves hopelessly and painfully in love with yet another of a long line of pathological narcissists. His "Codependent Narcissist Trap" Human Magnet Syndrome book is chocked-full with personal and professional stories of the codependent-narcissist magnet dysfunctional hell, as well as inspirational information that has changed millions of people's lives already.
Ross A. Rosenberg, M.Ed., LCPC, CADC, CSAT, is an international expert on narcissism, codependency, trauma and sex addiction. His 8 million YouTube video views and 80,000 subscribers have singlehandedly made him an international celebrity. Ross is also is a psychotherapist, counseling owner, in-demand speaker. His first book has been a best-seller since it was published in 2013 and has sold over 60,000 copies. Ross is regularly featured on national TV and radio; and blogs for prominent online publications.
To write his new book, Rosenberg, who is based in Arlington Heights, IL, tapped into 25 years' experience working with codependent clientele, as well as his own personal transformative journey. He believes that it is possible to break the cycle of dysfunctional romantic relationships with people who hurt us. The new book provides practical and clear information to help the reader better understand why they are attracted to and maintain romantic relationships with people who habitually hurt them.
Rosenberg says, "Powerful and predictable unconscious dysfunctional relationship forces disguise themselves as what is commonly known as 'chemistry.'" Through his books, videos, seminars and psychotherapy, Rosenberg demonstrates why a person's choice for healthy love is no match for the darker and more powerful Human Magnet Syndrome. According to Rosenberg, "I know this from experience. I hope my book motivates you to get help for your relationship problem. I hope it inspires you to break free from a relationship partner that is harmful to you."
For more information about Rosenberg and his new book visit
HumanMagnetSyndrome.com
.
Twitter: @RossRosenberg1
Facebook.com/HumanMagnetSyndromeTheCodependentNarcissistTrap
YouTube: youtube.com/RossRosenberg
Reporters, Editors, Producers, and Program Hosts: To arrange an interview with Ross Rosenberg, please contact his publicist, Christine King: ck@tmginternational.comor 310-887-7077