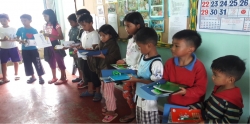 San Jose, CA, August 02, 2018 --(
PR.com
)-- Camp Carter International Karate Association (CCIKA) proudly announces a partnership with Kabuyao Elementary School in the Philippines, whereby it will donate needed school supplies throughout the year. While on a 3-country tour through Asia, Grand Master/Hanshi James D. Carter took time out to visit the Kabuyao Elementary School located at Tuba, Benguet, in the mountainous area near Baguio, Philippines.
Grand Master/Hanshi Carter connected with the staff and children during his visit to the school. After asking what materials the teachers and administrators were lacking, he promised to fulfill those needs with shipments of supplies over the next year.
Grand Master/Hanshi Carter visited the school on July 25 and the first set of supplies arrived three days later by a local support team coordinated by Krystle Cuanso.
"Visiting Kabuyao Elementary School was a highlight of my trip to the Philippines," says Grand Master/Hanshi Carter. "I enjoyed talking and laughing with the staff and children who were extremely welcoming of my visit. It's a privilege to partner with the School to provide them school supplies and pen pal writing correspondence from our young CCIKA Elementary students in the United States."
CCIKA wishes to thank Laura Korbas for her kind donation to this worthy cause. Those interested in supporting the effort can send an email to info@campcarter.net mentioning Kabuyao Elementary School for more information. Any monetary or school supply donations are appreciated.
Grand Master/Hanshi James D. Carter embarked on a 15 day three country Asian tour to Akashi Japan, Jincheon Korea and Baguio Philippines where he was appointed International Security Director for a fifty member delegation including Vallejo Sister City Association Members, Vallejo City Council Member Dr. Rossana Aliga, several local residents, an all girls youth Basketball team and a youth Taekwondo team both from Vallejo California. This was a trip of Goodwill and Diplomacy for the Anniversary Celebrations for each country mentioned and The Vallejo Sister City Association, of Vallejo, California.