Visiting Public School Teacher Cries Over State of Students Who Couldn't Speak Any English Though in Class for Many Months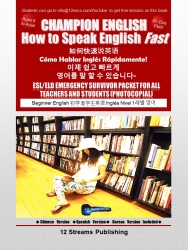 Los Angeles, CA, September 04, 2018 --(
PR.com
)-- The tension a public school teacher experiences when faced by an influx of students from multiple countries can be enormous and has led one teacher to say, "enough is enough."
Tamilla Palmer Perera, the creator of Champion English: How to Speak English Fast, said she was motivated to write a new simpler English language development book because of the suffering she saw among her students in a Los Angeles county school last semester. The book and can be ordered now on Kickstarter: goo.gl/MZtxTP.
"Most students from Asian countries tend to disguise how they feel, but when I saw the faces of the students from the inner city, they would look at the materials and their eyes would pop out like they had just seen a monster---they were clearly showing me that they did not understand anything, even after several months in the classroom."
Palmer Perera, a master's level teacher who usually teaches adult students at community colleges, said she joined the public school campuses as a long-term substitute due to her new schedule to adopt children but found herself in the middle of a crisis: how to quickly bring the students up to speed.
"Unfortunately, the books for beginner English were all wordy, replete with long paragraphs and difficult comprehension questions that no teacher should ever use, knowing it could easily take 2-3 hours to do homework," Palmer Perera said.
In response, she created her own hand-written packets—short, vocabulary sheets and exercises on the major parts of the body and the verbs and actions that correspond to those body parts.
Her theory is called "total personal response" in which students only learn what they need to know in order to speak English quickly. The textbook is a 240 page, 30 day supplementary tool with directions on each page in multiple languages such as Spanish, Chinese and Korean. It's also international and suitable for all ages.
Due to the fact that so many of the students come from homes that can't afford bus fare, gasoline or babysitting for younger siblings, Palmer Perera has also started 12 Streams Education Center to take the lessons to the students' communities. Interested donors can sponsor a book or a class for disadvantaged students both in the U.S. and other third world countries at Kickstarter.
Contact
12 Streams Encouragement Center
Tamilla Palmer Perera
626-540-9762
https://www.kickstarter.com/projects/championenglish/champion-english-how-to-speak-english-fast?ref=

Contact
Multimedia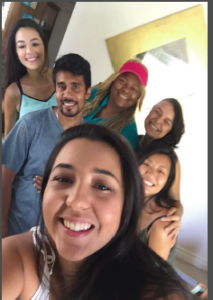 Pereras hanging out with their students at the 12 Streams English house.