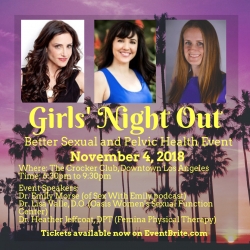 Los Angeles, CA, October 23, 2018 --(
PR.com
)-- Women's health physical therapist Heather Jeffcoat wants to talk to women about sex and pelvic health. But instead of discussing their concerns in a medical office with a paper gown, she is inviting them to an LA nightclub and pouring drinks.
Girls Night Out: Better Sexual And Pelvic Health is scheduled for Sunday, November 4, 2018 at 6:30 p.m. at the Crocker Club in Downtown Los Angeles. The educational and social event will feature Jeffcoat, the founder of Femina Physical Therapy, and other Los Angeles-based experts including human sexuality expert, Dr. Emily Morse (Sex With Emily podcast) and female sexual medicine expert Dr. Lisa Valle, D.O. (Oasis Women's Sexual Function Center).
Following their seminar covering a range of female sexuality and pelvic health considerations, speakers will answer attendee questions over drinks and appetizers. Jeffcoat hopes the historic venue, food and drinks, gift bags, and raffle prizes will set the backdrop for the discussions she hopes to facilitate.
"It's becoming increasingly important to facilitate these important discussions on women's pelvic and sexual health in a safe, nonjudgmental atmosphere," she says. "This event encourages women to bring up the questions they were always too afraid to ask, to the experts that can address them."
Tickets for the event, sponsored by Viveve and others, are available at
https//:feminapt.com/media-content/events/girls-night-out-2018
. Reserved booth seating is available for groups of up to 12 women. Unreserved seating options are also available. Topics will include normal and abnormal bladder, bowel and sexual function, treatment options, partner considerations and tips on communicating with your providers and your partner. These disorders affect up to 43% of women at some point in their lives.
Femina Physical Therapy is a specialized women's health physical therapy practice in partnership with Fusion Wellness and Physical Therapy, dedicated to treating female patients during pregnancy, postpartum, menopause, athletic injuries and offers birth prep services. Offices are located in Beverly Hills, CA, Sherman Oaks, CA and La Canada-Flintridge, CA. Founder Heather Jeffcoat, DPT, is also the author of Sex Without Pain: A Self-Treatment Guide To The Sex Life You Deserve, a book for women with vaginismus, vulvodynia, interstitial cystitis, painful bladder syndrome and other painful sex conditions. She is available for media inquiries regarding the event, or female pelvic medicine topics, including November is Bladder Health Awareness Month.