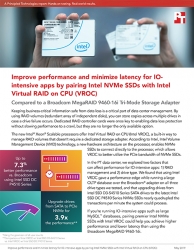 Durham, NC, May 01, 2018 --(
PR.com
)-- Creating RAID volumes lets organizations store copies of data across multiple drives to ensure data protection in case of drive failure, and dedicated RAID controller cards that manage these drives have long been critical to maintaining both data protection and strong performance levels. Now, for servers with Intel Xeon Scalable processors, admins can use built-in Intel VROC, which gives RAID volume management functionality to NVMe SSDs connected directly to the processor via PCIe bus. PT compared database performance of a server using Intel VROC vs. one using the Broadcom MegaRAID 9460-16i Tri-Mode Storage Adapter on three drive types: SATA SSDs and two types of NVMe drives.
According to the report, "We found that using Intel VROC gave a performance edge while running a large OLTP database over the Broadcom adapter on all three drive types we tested, and that upgrading drives from Intel SSD D3-S4510 Series SATA drives to the latest Intel SSD DC P4510 Series NVMe SSDs nearly quadrupled the transactions per minute the system could process."
To learn more about how using Intel VROC and upgrading drives can improve database performance, read the full report at
http://facts.pt/yjr4kn5
.
About Principled Technologies, Inc.
Principled Technologies, Inc. is the leading provider of technology marketing and learning & development services.
Principled Technologies, Inc. is located in Durham, North Carolina, USA. For more information, please visit
www.principledtechnologies.com
.
Company Contact
Principled Technologies, Inc.
1007 Slater Road, Suite #300
Durham, NC 27703
press@principledtechnologies.com