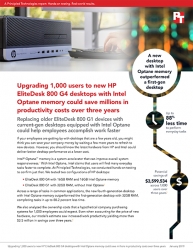 Durham, NC, January 30, 2019 --(
PR.com
)-- Principled Technologies (PT) compared the performance of two HP EliteDesk desktop configurations:
· HP EliteDesk 800 G4 with 16GB Intel Optane memory and 16GB RAM
· HP EliteDesk 800 G1 with 32 GB RAM
According to the report, "The new fourth-generation desktop with Intel Optane memory outperformed the first-generation desktop with 32GB RAM, completing tasks in up to 88.2 percent less time." When employees spend less time waiting on their desktops, they can get more work done in a day. PT estimated that this productivity boost could lead to a business saving up to $3.59 million across 1,000 users over three years.
To learn more about how upgrading to newer systems with Intel Optane memory could help businesses, see the full report at
http://facts.pt/rrtgj02
or the infographic at
http://facts.pt/s5yfqxo
.
PT also compared other systems to the HP EliteDesk 800 G4 with Intel Optane memory—read the summary report at
http://facts.pt/rgy4bj3
.