Intel Optane Memory Enabled the HP EliteDesk 800 G4 Desktop to Significantly Outperform Systems with Twice the RAM, Principled Technologies Studies Find
The increase in application and system performance could save businesses millions of dollars in productivity savings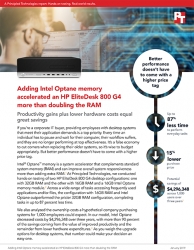 Durham, NC, January 30, 2019 --(
PR.com
)-- Principled Technologies (PT) compared the performance of several HP EliteDesk 800 desktop configurations:
· HP EliteDesk 800 G4 with 16GB Intel Optane memory and 16GB RAM
· HP EliteDesk 800 G4 with 32 GB RAM
· HP EliteDesk 800 G3 with 32 GB RAM
According to the report comparing the two EliteDesk 800 G4 configurations, "Intel Optane memory is a system accelerator that complements standard system memory (RAM) and can improve overall system responsiveness more than adding extra RAM." The results PT found in their hands-on testing provide ample evidence to back that statement. In a range of tests, system and application tasks completed faster with the Intel Optane memory-driven system—saving up to 87% of time spent waiting. When employees spend less time waiting on their desktops, they can finish more work in a day. PT estimated that this productivity boost could lead to a business saving up to $4.7 million across 1,000 users over three years.
To learn more about the Principled Technologies testing results, see the following reports:
· Summary report
http://facts.pt/rgy4bj3
· G4 with Intel Optane vs. G4 with twice the RAM
http://facts.pt/pqv8ua2
· G4 with Intel Optane vs. G3 with twice the RAM
http://facts.pt/rj2uojy
Contact
Principled Technologies, Inc.
Jasmine White
919-941-9812
http://www.principledtechnologies.com/

Contact