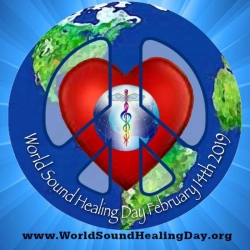 Boulder, CO, January 30, 2019 --(
PR.com
)-- Co-Create a Sonic Healing Wave for Earth on February 14 during World Sound Healing Day, a global event designed to help bring balance to the planet. With the Earth, its waters and its people in such a dramatic situation of crisis, Jonathan Goldman and others believe that the use of intentionalized sound, such as occurs on World Sound Healing Day, is quantum in nature. On this day, hundreds of thousands of people throughout the planet will vocalize an "AH" sound as a sonic valentine to the Earth.
The "AH" sound can dramatically shift the consciousness of those on our planet from one of competition to cooperation -- allowing us to work together to create solutions for these problems. Goldman invites you to co-create planetary and personal transformation during World Sound Healing Day, Thursday, February 14, 2019. And to view and share the latest World Sound Healing Day video and events information on the hows, whys and wheres of this powerful day along with award-winning music and a global healing meditation.
www.worldsoundhealingday.org
The purpose of World Sound Healing Day is:
To heal our planet
To heal our waters
To raise our consciousness
Tune in to a free global World Sound Healing Day show on February 14, 2019 at 11 am ET (US) with hosts Jonathan and Andi Goldman. The planet-wide broadcast includes a live Global Sonic Activation at the conclusion of the program. Tune in to Healing Sounds Radio at
www.healthylife.net
.
All people online are invited to enter The Temple of Sacred Sound, a sacred place in cyberspace where they can tone together throughout the planet via the magic of the Internet. It is available 24/7. Enjoy toning in the AH,OM and HU sacred chambers with relaxing fractal art. Tone individually or with groups online or in your location on February 14 at 12 noon in your global time zones and anytime throughout the day.
www.templeofsacredsound.com
Anyone with a positive intention to enhance the consciousness of our planet can help co-create World Sound Healing Day. One does not need to be a singer or have any musical ability to take part in the event. All can sound an intentionalized "AH" sound to help effect positive change on the planet. A special World Sound Healing Day AH Training Wave mp3 is posted at
http://www.worldsoundhealingday.org/ah-training-wave
and is available for download. This recording is helpful in assisting people to use their own sound for personal and planetary healing.
The synchronized waveforms of World Sound Healing Day have been measured by institutes such as the Global Consciousness Project at Princeton University. It has been known for several years that sound is a complementary modality for many healing paths, benefiting body/spirit/mind and sending healing energies to the planet. Goldman states: "We heal the planet, we heal ourselves. We heal ourselves, we heal the planet."
Jonathan Goldman, M.A. is an international authority on sound healing and a pioneer in the field of harmonics. He is author of numerous books including best sellers "The Humming Effect" (Inner Traditions 2017), co-authored with Andi Goldman, and winner of the 2018 Visionary Gold Award for Best Health Book, "Healing Sounds" and "The 7 Secrets of Sound Healing." Jonathan is director of the Sound Healers Association and president of Spirit Music, Inc. in Boulder, Colorado. A Grammy finalist, he has created over 25 best-selling, award winning recordings including "Frequencies," and "Chakra Chants." Jonathan is a lecturing member of the International Society for Music Medicine. In Spring 2011, Jonathan was named as one of Watkins' Mind Body Spirit magazine's "100 Most Spiritually Influential Living People." Jonathan lives with his wife and partner in sound, Andi Goldman, in Boulder, Colorado.
www.healingsounds.com
Jonathan Goldman is available for interviews.
Contact:
Joan Vann, 520-358-0575, chantingriver@gmail.com; Alec Sims, 303-443-8181, info@healingsounds.com