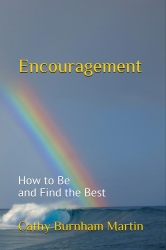 Manchester, NH, February 07, 2019 --(
PR.com
)-- Coaches, teachers, and managers can become more proficient and effective in lifting their teams, students, and departments when they read "Encouragement: How to Be and Find the Best," the latest business and personal improvement book by Cathy Burnham Martin, founder of SpeakEasy123 Corporate Communications.
This latest communications book from Quiet Thunder Publishing will help leaders:
· Identify and develop traits that create success foundations
· Overcome discouragement, bounce back more quickly, and thrive in challenging times
· Innovate ways to help Discouragers evolve into Encouragers
· Help their teams rediscover their natural confidence, self-esteem, and poise
· Create healthy environments in which people flourish and feel empowered
· Better prepare others to face opposition with greater grace and courage
· Learn the importance of helping others build skill sets and attain goals
· Succeed by becoming more powerfully encouraging and surrounding themselves with Encouragers
An award-winning broadcast journalist, Cathy Burnham Martin has written and produced numerous ground-breaking documentaries. A 20-year professional member of the National Speakers Association, she has written and spoken on human development topics throughout her career. Earning the highest academic award and a Master's in Corporate and Organizational Communications from Boston's Northeastern University in 2009, she has applied her skills in board of directors and upper management positions in industries including television production, bank organization, telecommunications, and not-for-profits. "Encouragement" marks her sixth nonfiction title.
Praise for Cathy Burnham Martin's "Encouragement: How to Be and Find the Best"
Publishers Daily Review writes, "In her extraordinary book, "Encouragement: How to Be and Find the Best," author Cathy Burnham Martin exudes an enthusiasm for life unmatched in other self-help books that claim to boost your spirit and world view. Five-plus stars to "Encouragement: How to Be and Find the Best." Get it for yourself or as a special gift to anyone who has issues with self-esteem or is dealing with hard times… It could definitely provide lifesaving inspiration and a firm footstep toward a more meaningful tomorrow."
"What an outstanding piece of work," declares Terence T. Burton, President and Chief Executive Officer of The Center for Excellence in Operations, Inc. "This book really pumped me up!"
"Cathy most certainly walks her talk consistently on a daily basis," affirms Wendy Tirollo, Owner and President of TRM Microwave. "Given her vast experiences in life she is the most qualified person I know to speak on encouragement. Just when I think she's written her finest work to date she outdoes herself once again with this incredibly insightful book."
"Encouragement: How to Be and Find the Best" can be found in paperback, eBook, and audio book formats from Barnes & Noble, Amazon, Audible, and more. Find more information, additional titles, and articles by Cathy Burnham Martin on www.GoodLiving123.com. This and all books from Quiet Thunder Publishing can be found at www.QTPublishing.com.