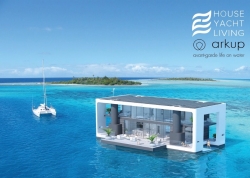 Miami Beach, FL, February 11, 2019 --(
PR.com
)-- Miami Yacht Show, Feb. 14-18, 2019
House Yacht Living (HYL) is proud to present the very first 75 ft., fully sustainable, floating villa/livable yacht ever created. This is one of the most technologically advanced vessels ever created on land or sea.
Fully solar-electric, mobile and self-elevating, Arkup livable yachts combine high-end design with cutting-edge technology to foster in the first step towards fully sustainable floating communities, hotels and eventually floating cities.
CEO and co-founder of Arkup, Nicolas Derouin, states, "We are proud to unveil the first of our next-generation floating homes. Showcasing it during Miami Yacht Show will be a turning point for our company to get first-hand feedback from demanding clients and professionals."
Arkup #1 is now for sale - $5,500,000
​
"Many high net worth individuals have already expressed their interest in being the first to own and enjoy our livable yacht. We are thrilled to organize private showings for potential buyers on Star Island, Miami Beach," said Arnaud Luguet, chief technology officer and co-founder of Arkup.
This "turn-key" vessel is furnished and decorated in style by the acclaimed Brazilian furniture company, Artefacto. Arkup will be docked on Star Island during the coming months and will be available for charters within the Biscayne Bay area. Everyone may now experience the future of living in serenity with air and sea.
Charter services will be available beginning March 2019 and bookings can be made with House Yacht Living LLC, the exclusive representative of Arkup #1 for charters and sales. Visit www.houseyachtliving.com for more information.
Visit House Yacht Living LLC at the Miami Yacht Show, Feb. 14-18, 2019 @ Booth #291
***Flooring provided by Esthec
New Miami Yacht Show Location:
1 Herald Plaza, Miami, FL 33132
Private showing by pre-qualified request only:
info@houseyachtliving.com
World Premiere Showing @ Star Island
To celebrate the world premiere of the award-winning Arkup, HYL is throwing a series of private showings from February 14-18, 2019.
With the assistance of InList, Billionaire Boys Club, celebrity influencers, Luminous Decor and Fabulous Design & Décor, HYL's guests are presented to a beautiful lot overlooking the water with 3 mature trees draped in elegant white lights. Leading up the showcase tent, tea lights line the walkway along with lighted trees, bioluminescent butterflies and an outdoor lounge area centered around a 12 ft replica of the 2nd most expensive sculpture sold in history, 1947 sculpture by Alberto Giacometti, L'homme Qui Marche (sold May 11, 2015 for $141.3M).
They are producing a combination of Delano's draping, flowing linen entrance along with Ceconni's elegant, white lights around nature. As guests approach the showcase tent, 2 guards, dressed in black, pull aside sweeping sheer linens exposing the Arkup beyond. Their guests are transported to a beautifully detailed and intimate space that is less convention center intent on selling product, and more intimate lounge zones with comfortable furniture that welcome their guests to sit, relax and learn about their partner's products, one on one.
Red carpet stretches from the showcase tent to the VIP platform and aquatic check in zone which sits directly in front of the Arkup. Upon the expandable terrace lies an extra special VIP table, reserved for HYL's major partners.
Every night at sunset, they have produced a mesmerizing, aquatic showcase featuring partners: SeaBob, LiftFoil & Cygnet. They also have several talented musicians, DJs & performers lined up to accentuate the night.
On display alongside the Arkup is the Van Dutch 30, announcing the 2020 Van Dutch 30.2 as the Official Tender of the Arkup. Van Dutch yachts will be shuttling HYL's executive guests from the Miami Yacht Show and waterfront villas.
As an added spectacle, Leonardo Helicopter will be landing on an ILandMiami floating helipad on Saturday & Sunday.
Premium partners include MK Miami Real Estate, The Advantaged Yacht Charters, LuxNow, Artefacto, Hamilton Agular, Hyde Beach @ SLS, Luminous Décor, Eco Solaer & Entourage Rose.
Additional support and consideration provided by YES Yacht Entertainment Studios, LVH, Miami Vertical Garden, AV Outsource, Randy Singer Music, Bon Chocolatier, Stir Brands, Vektor Vodka, Helix Vodka, Chai Rum, Nirvana Gin, HIA T U S Tequila & Icelandic Water.
After Party Location – Hyde Beach @ SLS South Beach
Love for Arkup #1 is in the air. Come join HYL for a Hyde Beach @ SLS opening night after-party starting at 10pm on Valentine's Day, February 14th. Hyde Beach is crafting a signature cocktail which will be unveiled the night of. With over 8,000 sq ft of indoor/outdoor celebration space curated by creative mastermind, Phillipe Starck, Hyde Lounge's chic design and ambience compliment artful cocktails to be enjoyed amongst the socialites of Miami Beach.
To RSVP for private invite consideration:
info@houseyachtliving.com
About Arkup:
Arkup LLC, a Miami-based company founded in 2016, pioneers next-generation floating homes and rethinks life on water with its fully solar-electric, mobile and self-elevating livable yachts. The Arkup conception combines high-end design with a technological edge, delivering luxury design, excellent quality and technical innovation to create "future-proof blue dwellings."
About Livable Yachts:
Arkup is first to market with its à la carte product for discerning buyers, bringing major innovations to a simple concept of "living in the view." This off-grid livable yacht is a one-of-a-kind vessel that can be piloted along coastlines or anchored on its hydraulic pilings to be as stable as a home on land, enjoyable 365 days a year.
The livable yachts feature zero emission and silent electric propulsion which provide mobility and maneuverability. An automated hydraulic lift system, allowing the vessel to put down a stable foundation in up to 20 feet of water, ensures stability and hurricane resilience. The livable yacht has four bedrooms in 2,600-square-feet of indoor space, with 4,350-square-feet in total, including its terraces and balconies. To achieve its sustainability objectives, the Arkup design is 100 percent solar-powered and has systems for harvesting and purifying rainwater, for complete independence.
Press Contact:
Marius Koller, Co-founder
305-318-3787
press@houseyachtliving.com
House Yacht Living, LLC
1800 Purdy Ave. Marina 3B | Miami Beach, FL 33139
Visit
https://houseyachtliving.com
for more information.
​Press kit is available at https://arkup.com/press