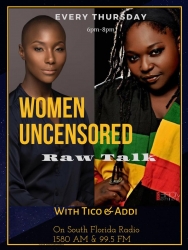 Miami, FL, February 12, 2019 --(
PR.com
)-- In their passionate desire to support solidarity, growth and overcome issues felt within South Florida's communities of color, Tico Armand and Addi Casseus endeavors to bring uncensored talks via a new radio broadcast titled, Women Uncensored: Raw Talks with Tico and Addi, on South Florida's first Haitian-owned radio station, WSRF 1580 AM, which also airs on 99.5 FM in Broward County.
The show's prime 2-hour slot during most of South Florida's drive home (6pm-8pm), promises intellectual and comedic-relief to an otherwise mundane drive through traffic. It promises to touch upon a variety of conversations, with invited guests to provoke deeper thought into daily life and events affecting our community. The show's weekly broadcast will include topics in the following:
Women's Lifestyle: Health, relationships, wellness, raising children, community resources, education, general advice, empowerment
Current Events: Hot Topics in the news, trends, world and local news, happenings
Creativity: Networking, entrepreneurship, the Arts, foodie spots/black restaurants
Community: Resources, housing, politics, grant talks, financial freedom/credit/money, collaborations
About Tico Armand
Renowned Haitian model, actress, singer and poet, who has appeared on NBC, BET and MTV. She emulates the pathway of how philanthropy and passion intersect. Currently, she's finishing her first self-published book, pursuing her MFA and is curating women brunches named, Reroute 2 Purpose across the country.
About Addi Casseus
Haitian folklore storyteller, jazz vocalists and blogger, currently working on a Ph.D. in Humanities & Culture. She's the founder of the Organic Roots Movement Group, developing culturally relevant programming to groups of all ages. She directs a humanities program at a college and is an adjunct professor.
WSRF 1580 and 99.5 will air the ladies' first live broadcast on Thursday, February 21, 2019, at 6pm. The show is set to air each Thursday from 6pm-8pm.
For programming information regarding Women Uncensored: Raw Talk with Tico & Addi, or for underwriting or sponsorship opportunities, contact Jessica Theodore at jesstbydesignconsulting@gmail.com or at 617.637.9158.