MobilDrTech Announces Collaboration with QT Medical for Release of Personal 12-Lead ECG
MobilDrTech, Inc. has entered into a partnership with award winning startup QT Medical to introduce the PCA 500, the world's most compact, wireless, 12-lead ECG system for personal use.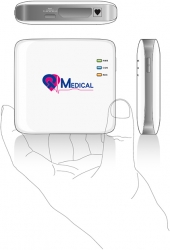 Sugar Land, TX, February 19, 2019 --(
PR.com
)-- At the 2019 Consumer Electronics Show (CES) in Las Vegas, QT Medical announced the launch of its Personal Cardiac Assistant (PCA 500), the only FDA-cleared, hospital quality, 12-lead electrocardiogram (ECG) for personal use.
https://www.telemedicinesupply.com/collections/ecgs
Several health trackers including Apple Watch 4 can record single lead ECGs and identify arrhythmias, including atrial fibrillation or AFib. A 12-lead ECG can do much more and remains the medical standard for comprehensive medical evaluation, such as for the diagnosis of arrhythmia, cardiomyopathy, myocarditis, and importantly, heart attacks (STEMI).
Because special training is required for the operator to place the leads and conduct the ECG, 12-lead ECG diagnostics has historically been limited to clinical settings. QT Medical's Personal Cardiac Assistant (PCA 500) is the first hospital grade, 12-lead ECG designed for use by the patient without the assistance of trained medical personnel.
PCA 500 is digital, wireless, and mobile friendly. It is smaller than a deck of cards, fits in the shirt pocket, and works with iOS and Android phones and tablets. The system uses flexible strips to combine the electronic leads and to help position them around the chest area. Instructions meant to be easily understood by average people help to make sure that each of the twelve leads is placed in the correct spot. Once the system is ready and the leads are placed, the control unit is activated to make a recording.
In a clinical trial, it was found that over 95% of patients with no training, and no experience with ECGs, could do a full 12-lead ECG test after reading simple instructions.
This revolutionary system will enable patients with heart disease to do timely, hospital quality, 12-lead ECG tests at their convenience and in the comfort of their homes and send detailed reports to their physicians.
PCA 500 is currently a prescription based device. Please download the brochure below and discuss with your primary care physician or cardiologist to decide if PCA 500 can help you to manage your disease or symptoms.
Click here to see a video about the PCA 500:
https://youtu.be/s96SmZrgXhE
Click here for a downloadable brochure about the PCA500:
https://dta0yqvfnusiq.cloudfront.net/usbst28863394/2019/02/PCA-500-ECG-system-5c59b033a49cd.pdf
ABOUT QT Medical
QT Medical, a visionary startup based outside of Los Angeles, California, has developed an at-home 12-lead ECG monitoring system that allows patients to record their own ECGs and share those tracings with their cardiologists. The FDA cleared Personal Cardiac Assistant (PCA 500) system provides hospital quality ECG recordings which can then be easily transferred to the patient's smartphone using an accompanying app and data shared with the patient's physician over QT Medical's cloud platform.
www.qtmedical.com
ABOUT MobilDrTech
MobilDrTech, Inc. is a full-service telemedicine systems and equipment provider. Founded in 2009 and based in Sugar Land, TX, MobilDrTech provides telemedicine services such as HIPAA compliant video conference platforms and functions as a Value-Added Reseller (VAR) for telemedicine equipment manufacturers including leading manufacturers of telemedicine stethoscopes, otoscopes, ECGs, general examination cameras and telemedicine carts.
www.mobildrtech.com
Contact
MobilDrTech, Inc.
Robert Jenkins
281-340-2013
mobildrtech.com

Contact