Youth Charity MyShoolROCKS Receives Grand Challenges Exploration Grant for Groundbreaking Research in Global Health and Development
MySchoolROCKS is the winner of a Grand Challenges Exploration Grant - an initiative funded by the Bill & Melinda Gates Foundation.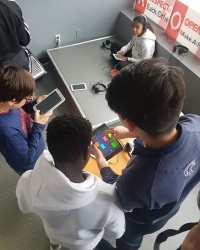 Toronto, Canada, March 08, 2019 --(
PR.com
)-- MySchoolROCKS announced today that it is a winner of a Grand Challenges Explorations grant – an initiative funded by the Bill & Melinda Gates Foundation. MySchoolROCKS will pursue an innovative global health and development research project, titled "Strengthening Youth Mental Health Outcomes and 21st Century Skills Through Progressive Music Instruction, Wellness and Collaborative Technologies."
Grand Challenges Explorations (GCE) supports innovative thinkers worldwide to explore ideas that can break the mold in how we solve persistent global health and development challenges MySchoolROCKS's project is one of 15 Grand Challenges Explorations Round 21 grants announced by the Bill & Melinda Gates Foundation.
To receive funding, MyShoolROCKS and other Grand Challenges Explorations winners demonstrated in a two-page online application a bold idea in one of
three critical global heath and development topic areas
. The foundation will be accepting applications for the next GCE round in February, 2019.
MySchoolROCKS research will build on breakthroughs in the science of neuroplasticity which continue to highlight the cognitive power of mindfulness. They imagine a classroom where students tap into creative power of right brain modalities and apply these pathways to guide their learning! What better immersion into design thinking, the craft of songwriting and emotional intelligence than curriculum based lessons that simulate the role of musicians in a band?
When students are engaged with innovative experiential learning, and educators unleash the power of personalized arts activities, we have the ability to transform the culture of the school community one inspired classroom at a time.
About Grand Challenges Explorations
Grand Challenges Explorations
is a US$100 million initiative funded by the Bill & Melinda Gates Foundation. Launched in 2008, over 1400 projects in more than 65 countries have received Grand Challenges Explorations grants. The grant program is open to anyone from any discipline and from any organization. The initiative uses an agile, accelerated grant-making process with short two-page online applications and no preliminary data required. Initial grants of US$100,000 are awarded two times per year. Successful projects have the opportunity to receive a follow-on grant of up to US$1 million.
Contact
MySchoolROCKS
Anthony Kolozetti
647-285-2657
myschoolrocks.org

Contact