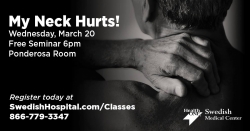 Englewood, CO, March 14, 2019 --(
PR.com
)-- Are you living in discomfort and not enjoying the activities you once did because of pain in your neck? Join Swedish Neurosurgeon, Eric Arias, M.D., to learn about common causes of neck pain as well as the non-surgical and surgical treatment options available. Dr. Arias will help you learn how you can get back to a life without pain in your neck.
The event will take place on Wednesday, March 20 at 6pm. This event is of no cost to participants, but registration is required.
Register today at SwedishHospital.com/Classes or call 866-779-3347.
This event will be held at Swedish Medical Center in the Ponderosa Room on the 1st Floor located at 501 E Hampden Ave, Englewood, CO 80113.
About Swedish
Swedish Medical Center, part of HCA's HealthONE, is located in the south metro Denver area where it has been a proud member of the community for more than 110 years. An acute care hospital with 408 licensed beds, annually Swedish cares for more than 200,000 patients with a team of approximately 2,000 dedicated employees, 300 volunteers and 1,400 physicians.
With stroke door to treatment times averaging just 20 minutes, Swedish serves as the Rocky Mountain Region's referral center for the most advanced stroke treatment, and was the state's first Joint Commission certified Comprehensive Stroke Center. Swedish also serves as the region's neurotrauma and orthopedic trauma provider and is the south Denver metro area's only level I trauma facility with a dedicated burn and reconstructive center. Over 150 facilities regularly transfer highly complex cases to Swedish.
Swedish Medical Center offers patients the highest quality care and the most advanced technologies and treatments in nearly every medical specialty including adult and pediatric emergency, heart care, neurology/neurosurgery, pregnancy and childbirth, orthopedics and joint replacement, cancer care, gastroenterology and liver care, gynecology and urology. Additional information about the hospital is available at www.SwedishHospital.com.