A CEO and PR Rep Recognizes the Importance of Elton John's Music in Saving Her Life
Amidst the announcement of his Farewell Tour and an upcoming movie about his life, the following describes how Denise Meridith, currently a CEO of an Arizona public relations firm, feels Elton John's music helped save her life.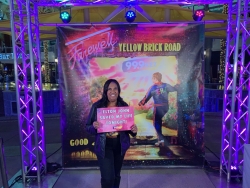 Phoenix, AZ, April 18, 2019 --(
PR.com
)-- It is a momentous year for Elton John, which includes the celebration of a 50-year-old, successful music career, his farewell Yellow Brick Road Tour, and a movie--Rocketman--about his life. John is recognized for selling 300 million records, winning five Grammy Awards, his advocacy for AIDS victims, and his devotion to his family. But John and his music have had other impacts on people's lives. Suicide has become the 10th leading cause of death in the US, plaguing youth, veterans, new moms and others. The following is a description by Denise Meridith, CEO of a public and community relations firm in Arizona, describing the impact Elton John's music had on her life.
Denise Meridith has never met Elton John personally, but feels she has known him most of her life. In the early 1970's, as a student member of the Cornell University Concert Committee, she helped engage the crazily-attired Englishman, with hits like "Bennie and the Jets" and "Crocodile Rock," to give a concert on campus. She thought it was a great concert; but John was having a bigger influence on her behind the scenes.
Though it is making the headlines now, teenage suicide is not new. It was then so common an issue at Cornell that students had a term for it: "gorging out." Ithaca, New York, was famous for its spectacular lakes and waterfalls. But its bridges and cliffs were attractive launch ramps for brilliant and disillusioned students, many under pressure to be perfect, but getting less than A's for the first time in their lives. For an African-American, like Meridith, the rationale for ending it all was different.
Meridith had overcome innumerable hurdles to arrive as one of the few Black students admitted to Cornell in 1969. She spent her junior and senior high school years integrating all-white schools, being isolated and harassed, with the goal of attending the only university with a vet school in New York. But, having finally earned what she thought was a golden ticket to a great liberal, Ivy League university, she discovered her American dream was a mirage.
Nationally, the anti-war movement, assassinations, civil rights sit-ins and women's rights struggles had sent college campuses into chaos. The spring before she arrived, armed Black students had taken over Cornell's Willow Straight Hall. On a personal level, Meridith faced an advisor, who predicted she would never get into the College of Veterinarian Medicine "because Black people don't know how to study," the career center, which said vets did not hire female students during the summer (a requirement for admission to the vet school) and a quota on the number of women admitted to the vet school. The safest place she could study without being called "nigger" and being harassed by white fraternity boys was alone in her dorm room.
For Meridith, all the optimism about equal opportunity, that had come with the passage of the Civil Rights Act, died. An African-American could study hard, get top grades, stay out of trouble...and get nowhere, just based on the color of his/her skin. Gorging out sounded like a good escape from a life of relentless racism.
But there was something calming about John's music, sad and touching (e.g., "Don't Let the Sun Go Down on Me"), but invigorating (e.g., "Honky Cat"). It was the "old days," when one could set the needle on the turntable to play the vinyl record over and over, which she did on evenings in her room. She survived, graduating on the Dean's List with a BS. Instead of becoming a veterinarian, she became the first professional woman (wildlife biologist) hired by the Bureau of Land Management, and had a stellar 29-year career.
Meridith was thrilled to be able to see John play during his last ever concert to Arizona in January. She had a photo taken there holding the sign "Elton John Saved My Life Tonight."
The current atmosphere of incivility is poisoning society. So many talented souls of all races, ages, religions, and sexual orientations are being lost to suicide. The negative impact on friends and families left behind is immeasurable. Personal vigilance and intervention by everyone is critical to saving lives.
John's songs are emotional, thought-provoking, and inspirational. John, himself, tried to commit suicide, something that he never admitted until many years later. Both John and Meridith can probably testify how life is worth living. For example, Meridith says her favorite Elton John song now is "I'm Still Standing."
Contact
Denise Meridith Consultants Inc.
Denise Meridith
602-763-9900
http://www.worldsbestconnector.com

Contact