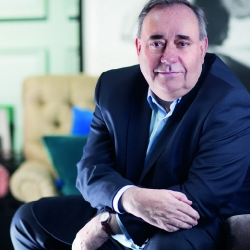 Edinburgh, United Kingdom, May 23, 2019 --(
PR.com
)-- The audience for the former First Minister of Scotland, Alex Salmond's political talk show has soared to over 220,000 viewers on Facebook's "Watch" video platform. The last two programmes featured an interview with top ten UK political blogger, Craig Murray - the former British Ambassador.
Produced by Slàinte Media and distributed on air and online, the programme's producer and former member of the UK Parliament, Tasmina Ahmed-Sheikh commented:
"We started our Facebook Premiere series just last autumn with an interview with former Conservative UK Government Minister, Edwina Currie and we were pretty happy with an initial audience of 10,000. This has built show-by-show until the last two weeks where it has reached 220,000 and counting for the interviews with controversial political blogger, Craig Murray.
"The global broadcasting reach for RT is 100 million but the UK TV viewing figures are constrained by the channel's position on the domestic Sky satellite platform. Nevertheless that doesn't stop the 'Alex Salmond Show' occasionally surpassing BBC Scotland's 'The Nine' TV audience figures, as has been well reported recently. However, the record viewings for the Show on Facebook and YouTube indicate a huge audience for programmes, such as our current series on the top ten UK political bloggers, which are simply not available on the mainstream UK media.
"At any rate these audience figures demonstrate a Show advancing from strength-to-strength. This week's programme, to be screened on Thursday 23rd May, features an exclusive interview with another UK top ten political blogger, the Northern Irish site, Slugger O'Toole."
Notes:
The Craig Murray interviews:
Part One: https://www.facebook.com/AlexSalmond/videos/419190051967230/
Part Two: https://www.facebook.com/AlexSalmond/videos/290909418522830/
Broadcast times:
On Air + Online
Broadcast on RT International SKY 511 & Freeview 113
Thursdays at 7:30am, 6:30pm & 11:30pm (GMT)
Re-run on Saturday 10:30pm & Sunday 1:30am
Webstreamed on http://Facebook.com/AlexSalmond and http://YouTube.com/AlexSalmondShow
Thursdays at 7pm (GMT)