First Responders Unite to Arrest and Extinguish ALS
Inaugural Arrest and Extinguish event at Tanglewood raises over $50,000 for ALS research.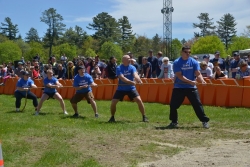 Cambridge, MA, May 23, 2019 --(
PR.com
)-- On Saturday, May 18, 2019, dozens of first responders from the Berkshires came together at Tanglewood for Arrest and Extinguish ALS, a tug-of-war event to raise money for ALS research.
The fundraiser was started by two first responders with ALS -- Lee, MA Chief of Police, Jeffery Roosa and former Deputy Chief of the Pittsfield, MA Fire Department, Michael Polidoro. The men organized the event in an effort to raise awareness and funds to benefit the ALS Therapy Development Institute (ALS TDI), a Cambridge-based nonprofit biotech dedicated to curing ALS.
Amyotrophic Lateral Sclerosis (ALS), or Lou Gehrig's disease, is a progressive neurodegenerative disease that causes muscle weakness, paralysis, and ultimately, respiratory failure. ALS robs people of their ability to walk, move, and speak, but keeps the mind intact. Currently there is no cure or effective treatment for this disease, but organizations like ALS TDI are working relentlessly to try and change this.
The inaugural Arrest and Extinguish ALS event was held from 11am to 5pm on Saturday and in addition to the tug-of-war competition it included food trucks, beer, live music, and games. Over 800 community members attended and helped to cheer on the 22 first responder teams as they competed in the tug-of-war competition. Thanks to the support of the community the event raised over $50,000, far surpassing Jeff and Mike's original goal of $25,000.
"It shows you how special the Berkshires are," State Rep. Smitty Pignatelli said. "When people hit a rough patch, we all come together for the greater good."
Jeff and Mike are now hoping to see the same supportive enthusiasm as Arrest and Extinguish takes off with police and fire departments around the country challenging one another to compete in physical challenges in support of their friends and neighbors living with ALS. They are asking all first responders to get involved by hosting an Arrest and Extinguish ALS fundraiser in their local area to benefit ALS TDI.
"This event was amazing and really surpassed all expectations. After seeing how successful this was, we're hoping it will kick off a huge Arrest and Extinguish national campaign," said ALS TDI Development Director, Terri Handler.
To learn more about starting an Arrest and Extinguish ALS event in your community, visit
fundraise.als.net/arrestandextinguish.
Contact
ALS Therapy Development Institute
Meghan Lawlor
617-441-7269
als.net

Contact