Chef Koochooloo Awarded Competitive Grant from the National Science Foundation
Chef Koochooloo wins a competitive grant from the National Science Foundation and invitations from the French and Swiss governments to pilot the idea in Europe. It teaches kids healthy eating from around the world, and infuses STEAM concepts through lessons. It is an example of how schools and policy makers can improve ethnically diverse students' success via culturally responsive teaching, with education programs and technologies using knowledge, attitudes and skills for inclusive classrooms.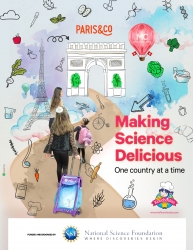 Mountain view, CA, June 01, 2019 --(
PR.com
)-- Chef Koochooloo has been awarded an NSF Small Business Innovation Research (SBIR) Phase II grant for $750,000 to commercialize innovative technology by conducting research and development work on patented, interactive, and gamified educational technology that develops science, math, literacy, and cultural competency for K-5 students.
Launched by Layla Sabourian in Mountain View's Title I schools in 2015 and funded through a Phase I NSF grant for $225,000, Chef Koochooloo teaches children the power of cooperation and strong STEAM skills by showing them how to cook healthy recipes from diverse cultures around the world. With support from the school district, business leaders, and the NSF, Chef Koochooloo has expanded into multiple schools across the Bay Area and currently offers a mix of philanthropic and commercial packages for interested parties.
"NSF supports startups and small businesses with the most innovative, cutting-edge ideas that have the potential to become great commercial successes and make huge societal impacts," said Graciela Narcho, Acting Director of the Division of Industrial Innovation and Partnerships at NSF.
"Research conducted during Phase I demonstrated statistically significant improvements in science, math, and literacy skills for students using the application. Children learn by touching, tasting, feeling, smelling, and listening. We were also able to prove that cooking healthy ethnic recipes not only helps children to develop a positive connection to fruits and vegetables, it helps them embrace diversity and inclusiveness through appreciation of world cultures," Sabourian, the organization's CEO, said when speaking about the start-up's progress to date.
Chef Koochooloo's future growth plans include establishing partnerships with food-related services, chefs, and textbook publishers. The startup will continue to advance its research on inspiring kids to take an interest in STEAM skills via cooking and is collaborating with Dr. Adam V. Maltese (Science Education at the University of Indiana) regarding data gathering and analysis. Chef Koochooloo will also launch its international expansion by participating in the Paris Landing Impact Accelerator and MassChallenge's EIT Food Accelerator Network (EIT-FAN), a designated agri/food-tech vertical, in Switzerland in June 2019.
About the National Science Foundation's Small Business Programs: America's Seed Fund, powered by NSF, awards nearly $200 million annually to small businesses, transforming scientific discovery into products and services with commercial and societal impact. Startups working across almost all areas of science and technology can receive up to $1.5 million in non-dilutive funds to support R&D, helping de-risk technology for commercial success. America's Seed Fund is congressionally mandated through the Small Business Innovation Research (SBIR) program. All proposals submitted to the NSF SBIR/STTR program undergo a rigorous merit-based review process. To learn more about the NSF SBIR/STTR program, visit:
seedfund.nsf.gov
. To learn more about Chef Koochooloo, visit:
https://chefkoochooloo.com/
Chef Koochooloo is based in Mountain View, California and has received incubator and in-kind advisory support from StartUp Chile, Tech Futures Group, Perkins Coie, and WilmerHale Law Firms. Inquiries may be directed to CEO Layla Sabourian,
layla@chefkoochooloo.com
.
Contact
Chef Koochooloo
Layla Sabourian
+1-650-463-6041
https://chefkoochooloo.com/
support@chefkoochooloo.com

Contact