GBDC Entrepreneurship Institute to Debut "Mobile Entrepreneurship Leadership & Training Bus" (M.E.L.T. BUS) on Friday, June 7 in Boynton Beach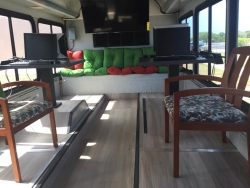 Boynton Beach, FL, June 06, 2019 --(
PR.com
)-- GBDC Entrepreneurship Institute will officially launch the Mobile Entrepreneurship Leadership & Training Bus (#MELTBUS) on Friday, June 7 at 6:30 PM at the First Transit Boynton Beach Headquarters, located at 3800 S. Congress Avenue, Boynton Beach, FL 33496. The mobile unit was converted from a former transit bus and will feature a number of services designed to help a variety of community members, including local youth, small businesses, and the homeless population.
The M.E.L.T. BUS is the brain child of Annette Gray, Founder of the Nonprofit Incubator located in Boynton Beach. "This is not an original idea by a long shot," said Gray. "Mobile solutions are on the rise; what is unique however, is the intended use of the bus."
Some of the programs that will be offered include:
Mobile classroom with wifi, computers, games and AV equipment
Resume writing and job search assistance
Business workshops and technical assistance
Youth life skills programs
Financial literacy
Homework assistance
Leadership mentoring
College prep (scholarship search, SAT/ACT test prep, etc.)
Cloud account for homeless population to include an e-mail address and phone number
The M.E.L.T. BUS will initially travel throughout Palm Beach County and is expected to expand into Broward and Miami-Dade in the future. A calendar of locations, programs and times will be made available on gbdcei.com.
For more than ten years, GBDCEI has provided unique program solutions to build successful futures. GBDCEI has engaged children ages 9-14 through its Kid-Preneur Leadership Academy; mentored budding entrepreneurs ages 16-21 by providing an opportunity to thrive in the Cultural Youth Entrepreneurship; provided an On-the-Job Training Program; and assisted with capacity building for small businesses develop numerous brick and motor locations.
"The M.E.L.T BUS is an extension of the work we are currently doing," said Gray. "It has been a labor of love, which took the better part of four years, lots of patience, dogged determination and support from community partners and friends to make this dream a reality."
The M.E.L.T. BUS will expand the mission and reach of GBDCEI reduce unemployment and homelessness through self-employment. "There is an abundance of resources in South Florida; however, there is a segment of the population who has transportation and other socio-economic challenges which prevents them from benefiting from those resources. The M.E.L.T. BUS is designed with this in mind," said Alterraon (Al) Phillips, GBDCEI Chairman of the Board.
The MELT BUS launch is a free family fun event which will include a BBQ, music, games and a movie. Attendees are asked to bring a folding chair and RSVP by clicking the link below. https://www.gbdcei.org/melt-bus
About GBDC Entrepreneurship Institute
GBDC Entrepreneurship Institute is a 501c 3 organization. Our Mission is the development of social entrepreneurs through training, business coaching and technical assistance. Emphasis is placed on young entrepreneurs and the homeless; to aid in the reduction of school dropout rates and the increase in employability skills and job creation.
Contact
GBDC Entrepreneurship Institute
Annette Gray
561-894-4510
gbdcei.com

Contact