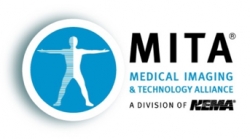 Washington, DC, June 12, 2019 --(
PR.com
)-- The Medical Imaging & Technology Alliance (MITA) today released a new economic report showing the medical imaging industry's significant contribution to the Massachusetts economy, supporting almost 26,000 jobs and generating roughly $2.31 billion in total wages and benefits annually.
"Massachusetts has always been an important hub for the medical imaging sector – and this report clearly demonstrates just how vital the imaging sector's contributions are to the state," said Dennis Durmis, Chair of MITA Board of Directors. "With medical imaging contributing roughly $7 billion in total economic activity, along with $820 million in revenues to federal, state and local governments, it's not surprising that many of Massachusetts elected officials are supporting efforts to suspend the harmful medical device tax to ensure continued and future growth of the industry."
The report, compiled by John Dunham & Associates, concluded that the medical imaging sector supports an estimated 10,000 full-time jobs, with suppliers and other companies directly related to the medical imaging industry generating an additional 16,000 full-time equivalent positions. From researchers to hospital technicians, administrators to retail suppliers, the positions supported by the medical imaging sector include a diverse range of jobs with unique responsibilities.
"Massachusetts plays an integral role in our healthcare economy, both at the state and national levels," said Brian Johnson, President of the Massachusetts Medical Device Industry Council (MassMEDIC). "The knowledge explosion fueled by research and development taking place in Massachusetts increases access to innovative technologies for patients across the country and around the world. By repealing the medical device tax, Congress can help ensure that this sector and the workers it supports can continue to thrive."
Forty-nine medical imaging technology facilities currently operate in the state. These firms employ about 6,000 full-time employees who earn an average salary of $120,900 - well above the state's median household income. All told, the direct economic output of the medical imaging sector contributes about 1.2 percent of the state's total economic product.
The full report, "The Economic Impact of the Medical Imaging Technology Industry in Massachusetts," is available
here
.
The Medical Imaging & Technology Alliance (MITA), a division of NEMA, is the collective voice of medical imaging equipment manufacturers, innovators, and product developers. It represents companies whose sales comprise more than 90 percent of the global market for advanced medical imaging technology. For more information, visit www.medicalimaging.org. Follow MITA on Twitter @MITAToday.­­­­­