Brewing a Cure 4 ALS Fundraiser Invites You to Enjoy Regional Beers and Wines While Fundraising for ALS Research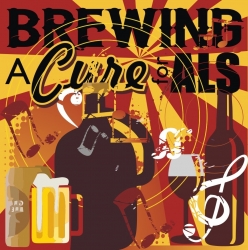 Cambridge, MA, July 31, 2019 --(
PR.com
)-- On Saturday, August 10, 2019, the first-ever Brewing a Cure 4 ALS fundraiser will be held at Technology Square in Cambridge, MA. Brewing a Cure 4 ALS invites community members to enjoy craft beer, wine, music, and food with the goal of raising money for ALS research at the ALS Therapy Development Institute (ALS TDI).
Brewing a Cure 4 ALS is being organized by a determined group of friends, with a critical mission; to do everything possible to help find a cure for ALS. They were inspired to organize the event after Dennis Ceruti, a cherished friend, loving husband, and father of four amazing girls, was diagnosed with ALS. In conjunction with ALS TDI, Dennis's friends are standing up to fight alongside him, and everyone with ALS, to raise money and awareness to try and put an end to this disease. Their hope is that the event can raise $75,000 for research at ALS TDI.
"I was so impressed by the staff and scientists that I met during my tour of the ALS TDI lab that I knew I had to find a way to support their work to end ALS," said Dennis Ceruti, Founder of Brewing a Cure 4 ALS. "I called my friends Dave and Camille, Brewing a Cure 4 ALS Co-chairs, on my way home and said I wanted to create a fundraiser for ALS TDI. From there, we were off and running. My visit to ALS TDI inspired me to make an impact and I feel I am able to do that through Brewing A Cure 4 ALS. It's my way to fight back for all of us battling this disease and do what I can to help end it."
The
ALS Therapy Development Institute
(ALS TDI) is the world's first and largest nonprofit biotech focused 100 percent on ALS research. Led by people with ALS and drug development experts, ALS TDI employs a team of 30 research scientists and technicians at the ALS TDI's state-of-the-art laboratory in Cambridge, MA. ALS TDI is driven by a single, profoundly important goal, to slow and stop this disease.
The Brewing a Cure 4 ALS event will be held from 1:00-4:30pm at 300 Technology Square. The event will include samples from over 30 local and regional breweries/wineries as well as delicious food available for purchase from Daddy's Bonetown Burgers and Naco Taco food trucks.
All attendees must be 21+ and have a valid ID. General admission tickets are $60 and will include unlimited samples from 2:00-4:30pm as well as a souvenir tasting glass.
To learn more about the event and to purchase tickets, visit
https://fundraise.als.net/brewingacure4als
.
Contact
ALS Therapy Development Institute
Meghan Lawlor
617-441-7269
als.net

Contact