Ask My Buddy Announces New Premium Features That Also Support Amazon's "Buy Once, Enjoy Everywhere" Program
The premiere alert system has increased functionality that also works with other platforms.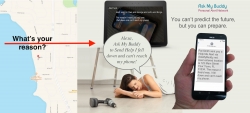 Boca Raton, FL, August 13, 2019 --(
PR.com
)-- Ask My Buddy, Personal Alert Network, a platform for providing users with a voice-activated assistance network, announced today that its newest release of the platform includes the option to purchase additional premium features that extend the functionality to enhance its already award-winning platform. Ask My Buddy, Personal Alert Network, is a free "skill" available on Amazon Alexa, and as part of Amazon's "Buy Once, Enjoy Everywhere" program, these features also work with the same functionality on other platforms, such as Google Home / Assistant, and Microsoft Cortana voice platforms.
With the Ask My Buddy platform, users create a network of contacts who receive personal alert notifications when the user is in need of assistance. For example, a user can send a "check on me" notification to their Personal Alert Network, just by speaking, even without the use of a telephone. Ask My Buddy is not a substitute for 911, but rather an additional tool offering the security of knowing help is just a shout away. When a customer uses the Send Help command, "Alexa, Ask My Buddy to Send Help," a "Please check on me" request is immediately sent to the people on the contact list by text message / SMS, an email, and a voice telephone call, all with one command. Now, Premium users can let their contacts know exactly what kind of help is needed. With the Premium version of Send Help With Reason, instead of just a "check on me" notification, a user may specify a reason help is needed, such as they have fallen down and can't move.
"We are very excited to have added the most requested features," said Co-Founder Pat Coggins. "This new feature, 'Help With Reason' allows our users to specify what kind of help they need. This helps their contacts understand the nature of the problem and get the right help quickly."
One of the most popular features is the Check In functionality, that lets the user's Network know they are fine with an "I'm OK" message. Users can check in with each individual contact or with all contacts at once. This feature is valuable for elderly users living alone or even with children checking in with parents when they've arrived home from school. Now with the Premium Feature, this Check In With Location will include addresses of the Alexa devices, so the network will know if their child is checking in from home, the babysitter's home or Grandma's house. "We have found that the extra functionality of allowing physical location of each Alexa device adds yet another layer of peace of mind for family members," Coggins added. "Location is included with both Alerts and Check In messages. New mobile devices include enhanced location information such as altitude, which can help identify which building floor the user might be on. Additionally, timestamp and position of last update, plus range of accuracy, all help the contacts locate the user by pinpointing their location, although today this location information is only available on the Alexa devices."
Finally, two other key features that come with Ask My Buddy Premium include 1) increased message allotment of 400 messages so there is no reason to let your family wonder how you are or where you are or if you're doing OK – you can let them know every day and even multiple times a day, and 2) a Find My Cell Phone feature that will place a voice call to the missing phone by simply asking "Alexa, Ask My Buddy to alert my cell phone."
"While we have always been proud of the execution of our application to support families who have active and independent family members such as aging parents and older school-aged children, we listened to the requests of our growing user base and we added these Premium Features to best address their needs," Coggins concluded. "We will continue to enhance our service and features and as these home devices become more prevalent, and with the support of our partners at Amazon, I am sure we will continue to add leading-edge functionality to fulfill their requests."
About Ask My Buddy
Ask My Buddy, Personal Alert Network is a free service that leverages Amazon Alexa and Google Home Voice Platforms to connect our 145,000+ users to their Personal Alert Network using only their voice. The service is designed for ease of use by all customers, and is a favorite of senior and mobility challenged individuals. Ask My Buddy is not a substitute for 911, but rather an additional tool for those trying to preserve their independence, offering the security of knowing help is just a shout away. Further information can be found on the Company's corporate website: https://www.askmybuddy.net.
About Amazon
Amazon is guided by four principles: customer obsession rather than competitor focus, passion for invention, commitment to operational excellence, and long-term thinking. Customer reviews, 1-Click shopping, personalized recommendations, Prime, Fulfillment by Amazon, AWS, Kindle Direct Publishing, Kindle, Fire tablets, Fire TV, Amazon Echo, and Alexa are some of the products and services pioneered by Amazon. Amazon, Echo, Alexa and all related logos are trademarks of Amazon.com, Inc. or its affiliates. For more information, visit amazon.com/about and follow @AmazonNews.
Contact
Ask My Buddy
Sheryl Coggins
860-602-8339
www.askmybuddy.net

Contact