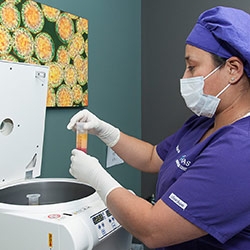 Manhattan, KS, August 17, 2019 --(
PR.com
)-- Kansas Regenerative Medicine Center,
https://kansasrmc.com
, is providing an interactive seminar on alternatives to invasive surgery or pain medication. The seminar will be held Tues., August 20, 2019, 5:30 PM – 6:30 PM at 4809 Vue Du Lac Pl., Suite 105 in Manhattan, Kansas.
During a one-hour interactive seminar, the doctors at Kansas Regenerative Medicine Center will share their expertise in using a patient's own stem cells to treat a variety of medical conditions - potentially avoiding traditional invasive surgery and/or reducing/eliminating common medications - with little to no downtime.
Doctors and staff will educate attendees about the following:
- The science of stem cells and how they do what they do
- Why using a patient's own stem cells is the safest source of cells
- Share case studies and patient success stories
- Questions and Answers with the doctor
Medical conditions that are frequently treated include: partial rotator cuff tears, arthritis of the shoulder joint, labral tears or degeneration, rotator cuff tendonitis & tendonosis, AC Joint Injury, biceps, spinal stenosis, degenerative disc disease, bulging disc, Facet Arthropathy, chronic back pain, knee arthritis, meniscus tears, tendon and ligament tears, overuse injuries and much more.
For more information, contact Kansas Regenerative Medicine Center at 844-320-4700 or register by visiting
https://kansasrmc.com/seminars
.