Widow Launching Second National Tire Safety Tour
Diana Hubner's book, "The Tire Mom: My Highway to Healing," is the story of her national tire-giveaway tour to raise awareness of tire manufacture dates.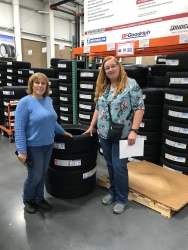 Rochester, NY, September 18, 2019 --(
PR.com
)-- Diana Hubner, CEO and founder of The Tire Mom, LLC, has set out for a second year in a row to raise awareness about tire manufacture dates and tire safety. Hubner will be touring the country to promote her new book, "The Tire Mom: My Highway to Healing," and to educate the public about tire safety. Last year, Hubner purchased a set of tires for a family in each of the 50 states, some of them perfect strangers, to help heal from the death of her husband in a tire-related accident.
The Tire Mom is the story of that journey. "I lost my husband because we didn't know how important it is to check the age of your tires," says Hubner. "We are told to check the air pressure and the tire tread, but seldom look at the manufacture date on the sidewall."
As a stay-at-home mom who simply wanted to learn more about tires after the loss of her husband, Hubner set out to learn from the experts. On her first solo tire safety tour, she drove over 35,000 miles across 48 states and flew to Alaska and Hawaii, buying tires and educating herself and others.
In addition to sharing her newfound knowledge about how to read tire manufacture dates, The Tire Mom is also the story of how Hubner channeled her grief into helping others stay safe on the road.
Approximately 200 million replacement passenger tires are purchased in the United States annually. Every tire has a birth date - the day it was manufactured - and several automobile manufacturers and tire stores recommend that tires be replaced six years from the manufacture date. Even if tires don't appear to be worn, that date can make the difference between having an accident and staying safe.
Hubner leaves on her national book tour on September 30. Dates and locations will be announced on TheTireMom.com.
Contact
The Tire Mom
Angel Tuccy
720-271-5942
thetiremom.com

Contact