Inventor of "Games of Genius" Coming to R.I., Oct. 10 Free Seminar, Open to the Public
Parents, teachers and government officials worldwide are learning how to help children be more confident, successful, and innovative by discovering their own unique talents – in seven minutes a day. The general public is invited to learn about and play the award-winning "Games of Genius," with the inventor, Opher Brayer, at a free presentation from 6 to 8 p.m., on Thursday, October 10 at the Kirkbrae Country Club, Lincoln, R.I.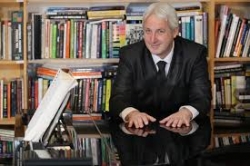 Providence, RI, September 23, 2019 --(
PR.com
)-- Mr. Brayer will explain his multi-discipline talent model (FAST methodology) and demonstrate how pattern recognition helps develop children's talents, leading to more success and confidence in the classroom and out. He will invite audience members to participate in games that reveal how quickly learning can happen when we learn to recognize patterns. And, he will show how we can help nurture talents in our children by playing simple games together.
During his first-ever presentation in Rhode Island, Opher Brayer will show how children and adults of all ages can:
- Tap into their "mathematical imagination" for any activity
- Be more present in this technology-saturated world
- Be empowered as leaders and innovators
He will discuss possible solutions to the challenges faced by all parents, how to raise children to be successful in a world that is changing at breakneck speed.
The founder of the Bayer Group, Mr. Brayer has spent his career helping people "define" and develop their own talents to be successful in school, their personal lives, and business. A business mentor, coach, educator, and innovator - he demonstrates his "Stages" program and "Games of Genius" on YouTube and in a
TED Talk
. Mr. Brayer won the 2018 Tribeca Award for "Disrupting Education Around the World."
The event is being sponsored by Mastery Martial Arts, which operates eight martial arts academies throughout Rhode Island and southeastern Massachusetts.
"We invited Mr. Brayer, who is a martial artist, to Rhode Island to teach our parents and the community how we can boost our children's confidence, success, and learning abilities in a few minutes a day," said Greg Horton, president and owner of the Mastery academies. "As a martial artist for over 30 years, I know the value of using patterns to learn physical movement. As a parent, I know how important it is to help children find and develop their own unique skills. Mr. Brayer's program, which I practice myself, ties together all learning."
Pre-registration is required by going to the Event Brite link
Here
.
About Games of Genius
Games of Genius is an online educational program, based on Brayer's award-winning FAST methodology, which teaches parents the theory behind the approach, and provides them with instructions on how to play off-line games that build a child's ability to recognize, design and compose patterns in real-time. A free trial is available at www.gamesofgenius.com/freetrial.
Contact
Mastery Martial Arts
Greg Horton
401-349-5800
www.MasteryMa.com

Contact