Local Author, Carey Conley, Announces "Keep Looking Up" Book Launch Celebration
4 Cities Chosen to Share Journey of Losing Husband/Father, Son/Brother to Suicide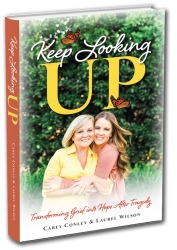 Phoenix, AZ, October 15, 2019 --(
PR.com
)-- Carey Conley, Author of "Vision is Victory," and her daughter, Laurel Conley Wilson, will release their book they co-wrote together, "Keep Looking Up, Transforming Grief into Hope after Tragedy," on November 11, 2019. The chosen date is no coincidence, it is the same day as Cole Conley's would-be 28th birthday. The book launch will take place on Monday, November 11 at the Andaz Scottsdale Resort, and then travel to 3 additional cities: Denver, Colorado, Oklahoma City, Oklahoma, and Orange County, California.
"Keep Looking Up, Transforming Grief into Hope after Tragedy" tells the long-awaited story of how their family overcame the grief and stigma around losing their husband/father and son/brother to suicide within 3 years of each other. More than just sharing their story, the book includes 11 chapters of inspirational steps the Conley's learned during their journey. They hope to help other people get their own adversity. "We crafted this book so that people could learn from us," says Carey and Laurel, "and we've included talking questions at the end for reflection for either family or group discussion. We want people to have a change in perspective on life, and keep looking up."
The duo is honored to announce that Lin Sue Cooney, who personally worked with Cole Conley at Channel 12 News, will be emceeing for the evening. Also scheduled to speak at the kick-off event are best-selling author, Sharon Lechter and award-winning speaker, Rita Davenport. Both women are very close to the Conley family, and have been very involved through this journey. The event and portions of the book sales will benefit the NewSong Center for Grieving Children. $20 Tickets include a cocktail and a pre-signed copy of "Keep Looking Up."
https://www.eventbrite.com/e/keep-looking-up-book-launch-celebration-tickets-72141748913
Both Carey and Laurel recommend having honest conversations about life, loss and purpose with your children at a very early age. "What I find, is that without a clear, big vision, you are never able to make it past your fear: fear of stepping outside your comfort zone; fear of failing, even the fear of success," says Conley. "Too many people die without ever achieving greatness. You are meant to achieve the greatness and purpose you were put on this earth to do."
About Carey Conley and Laurel Conley Wilson: Carey and her late husband, Ross Conley, grew up and raised their family in Denver, Colorado. Carey now resides in Scottsdale Arizona. Laurel Conley Wilson and her husband live in Oklahoma. "Keep Looking Up, Transforming Grief into Hope after Tragedy" is their personal story providing hope and encouragement to move gracefully through life's adversities.
To schedule interviews or host book signing events, contact the team at www.CareyConley.com
Contact
Carey Conley
720-331-8693
careyconley.com

Contact