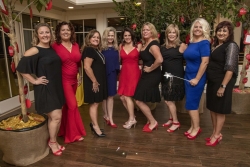 Jupiter, FL, October 28, 2019 --(
PR.com
)-- Presented by event Chair, Robin Henderson and Honorary Chairs Ric & Dorothy Bradshaw, this ruby shoe and red tie affair was held October 19 at Jupiter's Johnathan's Landing Clubhouse and transported attendees to our very own Emerald City where cocktails, silent auction, dinner, and dancing was abound - all in support of the 15th Judicial District Guardian ad Litem advocacy program; the volunteer corps serving as the voice of the estimated 1,700 children involved in abuse and neglect cases in our county.
"Our heart is to remain true to not only our mission, but also to the hearts of the children we serve," says event chair, Robin Henderson who is a Senior Vice President/Senior Client Manager with Bank of America Merrill Lynch in the Palm Beach Business Banking Division and serves as the Vice President of Speak Up for Kids board of directors. "Like Dorothy in the Wizard of Oz, local children are yearning for home. Speaking up for them fuels us."
This desire also resonates with Honorary Chairs, Ric & Dorothy Bradshaw who say "There is no higher duty than the one we have to ensure children have hope and a future."
The night's events included recognition of the Tin Man, Lion, and Scarecrow honorees; Voloridge Investment Management, Representative Rick Roth, and Ackerman LLP, respectively, for their heart, courage, and the intellectual capital exhibited to enhance impact and improve legislation in the child welfare arena.
"Our honorees have granted children's holiday wishes, served to champion legislation for improvement of the dependency system, and empowered our youth through scholarships and pro bono legal services," says Bradshaw. She continues, "Collective impact deserves recognition and Palm Beach County exemplifies unified dedication to elevate children above their current circumstance and pave the way for them to thrive."
Sponsored by: PBSO, Steinger, Greene & Feiner, DS Eakins Construction, Split Rock Foundation, Bank of America, Lytal, Reiter, Smith, Ivey & Fronrath, Caracuzzo - Keller, Keller, Caracuzzo, Cox & Belluccio, Wendy Dohner, NextEra, Woodland Landscaping, Southern Certified Incorporated, Morgan Mitchell Photography, Robin Henderson, Sherrie Wolfe and Enrique Echave,
Speak Up for Kids champions the efforts of the local Guardian ad Litem Program, volunteer child advocates who serve as the voice for child victims of abuse, abandonment, and neglect. Funds raised from this event will provide resources so that every vulnerable child in care has what they need and has a voice representing their physical, educational, and emotional best interest in court proceedings. For information, visit www.SpeakUpforKidsPBC.org.